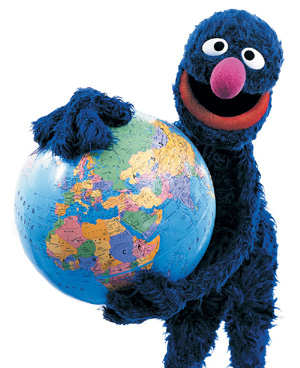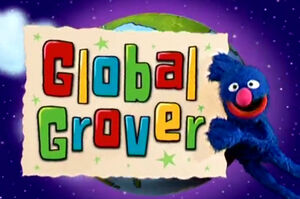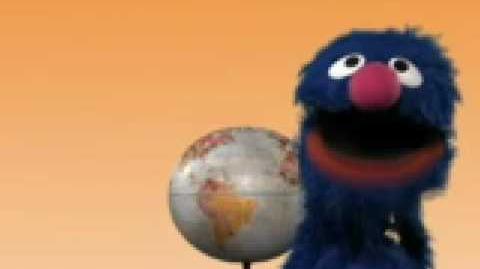 Global Grover is an award-winning[1] Sesame Street segment hosted by Grover, in which the blue monster travels all over the world to explore the traditions of peoples from many diverse cultures. Grover speaks directly to the viewer, usually having just returned from a trip to somewhere around the globe. After a brief film shot on location, Grover may receive a helping hand from a Muppet assistant before signing off. Says Grover, "I come back and I always bring something from my travels and teach everyone on Sesame Street about the places I went to." He continues, "I had not even gone around the corner before. This was something extra special."[2]
The segment made its debut in season 34, using "the power of television to demonstrate the diversity of the world we live in."[3] Melissa Dino serves as the segment's producer, choosing the filming locations and educational value of each segment, which have been designed to teach children to respect the diversity of people from all over the world.[4] Grover reinforced these ideas during a presentation at the Common Ground Awards, where, by learning about different languages, different cultures and different religions, he surmised that people are different everywhere, and yet we are all very much the same. New segments were produced through season 37. Segments continued to be re-run through season 39.
At the time of its debut, Grover made the rounds on the press circuit. He was interviewed by the Associated Press in an article which was picked up by several publications, and even appeared on talk radio shows such as The Savvy Traveler. In March 2007, Global Grover was still making headlines when he was featured in a cover story for NJN Public Television & Radio's issue of The Guide. The article stresses Global Grover's exploration of "daily life abroad," and extends the segment's goals in an initiative with Kean University that helps early childhood educators incorporate the promotion of global awareness into their curricula.[5]
Internationally, Global Grover has been distributed separately as a 5-minute, 30-episode series, which began in fall 2005. The series tacks on opening and closing credits, plus an existing animated segment from Sesame Street, to round out the program.[6][7]
The concept of Global Grover has been published in the books Global Grover Travels All Over and Hide & Seek, Near & Far, got its own section in Brought to You by... Sesame Street!, issued as the coloring book Around the World We Go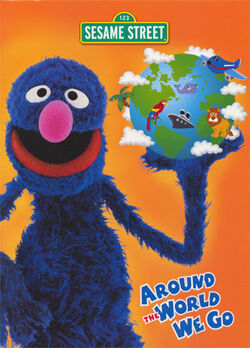 , and featured in the activity pads Global Grover Travels All Over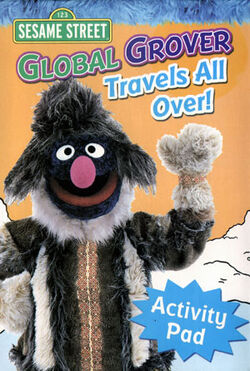 and Global Grover Takes a Trip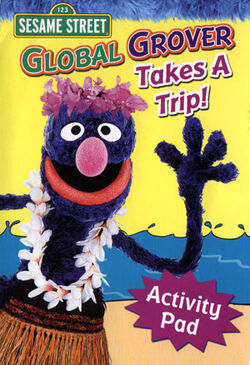 . Online content includes a dancing game called "Global Grover Grooves"[8] (by 360Kid), a postcard email creation kit called "Greetings from Grover",[9] and the "Around the World Day" playlist on sesamestreet.org.[10] Global Grover has also been featured in its own section in several issues of Sesame Street Magazine, and the Sesame Place theme park even has a ride based on the segment, Grover's World Twirl. Previous to these instances, Grover was a globe-trotting delivery monster in the special Sesame Street Stays Up Late, bringing anchormonster Elmo various New Year's Eve-related items from all over the world.
Segments
Picture
First Appearance/
Location
Description

Episode 4033
World: Baths
Grover has just taken a trip all over the globe and learned about the different ways people bathe. The film clip features Hoots the Owl singing "This is How We Take a Bath." Dirty from his trip, Grover intends to clean up himself, but there is no water coming out of the faucet. An elephant named Stevie helps him out by using his trunk as a shower head.

Episode 4047
World: School
After Grover has taken a trip around the world, he resolves to demonstrate how to get to school on his camel Sidney, as they do in some countries. The segment bookends a live-action film of kids going to school with Jerry Nelson singing "There's a Lot of Different Ways to Get to School."




Episode 4031
Africa: School
Grover returns from having attended school somewhere in Africa. The Elephant has never been to school, so Grover shows him a film about a girl as she prepares to go to school. (First: Episode 2658) After the film, Grover has written the word "boy" on a chalkboard and drawn a picture of a boy. The elephant shows what he has learned by jumping, creating general havoc.

Episode 4038
Alaska: Inuit words
Grover has returned from Alaska on a dog sled. He says that winter in Alaska is very cold and is called "ukiuq." The live-action sequence is a song sung by an Inuit Alaskan girl. (First: Episode 2360) After the video, Grover announces that he is ready to go and rest, but his dog tells him that he wants to go back to Alaska immediately, and he pulls Grover back towards Alaska.

Angola: Fishing
Grover is carrying a heavy bucket of fish he carried back from Angola, a country in Africa. He tells us that villagers there carry buckets of fish on their heads. His film depicts people catching very large fish in nets from the ocean which are carried by the women in buckets on their heads back to their village. One child in the film is seen wearing an Incredible Hulk sweatshirt. Grover attempts to balance a single fish on his head, but gets his head stuck in a bucket instead.

Episode 4079
Argentina: Candy
Grover returns from Argentina with a box of candy. In his film (First: Episode 3171), Lucia watches her grandparents make candy in their chocolate factory. Afterwards, the Three Little Pigs come and compliment Grover on his candy pig.

Episode 4055
Arizona: Sheep
Dressed in sheep's clothing, Grover has just returned from the deserts of Arizona where he learned about a family of sheep herders. Just as he's about to sign off, a group of Muppet sheep arrive to take him back to Arizona with the rest of the herd.

Episode 4067
Australia: Dugout
Grover and a kangaroo named Sheila return from Australia. In his film, Lenny demonstrates his dugout house. Afterwards, Grover and Sheila try digging a house of their own on Sesame Street, with unforeseen consequences.

Episode 4070
Australia: Animal rescue
Grover returns from Australia. In his film, Emily and her family fulfill the role of wildlife rescue volunteers. Afterwards, Grover looks for an animal he can assist and rescue. All the animals rebuff him, however, and he collapses from frustration. Soon, he finds himself the one being rescued.

Episode 4110
Bangladesh: Art class
Globe-trotting Grover enters carrying a basket of art supplies. He empties the basket to reveal a star fruit, fragrant flowers, leaves and vegetables. He has just returned from Bangladesh where he saw these materials used to make beautiful art. To prove it, he shows us a live action film about Nishta, a six-year old girl, whose mother takes her to art class to learn how to imprint pictures on paper using fruits, vegetables, flowers and leaves.

Episode 4086
Bangladesh: Coconut leaves
Grover visits Bangladesh and learns that people can make many things out of coconut leaves.

Episode 4095
Bangladesh: Fishing
Grover visits Bangladesh where he learns how to fish with a basket and net.

Episode 4035
China: Acrobats
In China, Grover has learned from a boy who is training to be an acrobat.

Episode 4057
China: Peacock dance
Grover visits China, where Ming does a peacock dance.




Episode 4056
Egypt: Farm
Grover returns from Egypt with his camel Sidney. In his film, Ahmed and his father visit their relatives in the country. The relatives send them home with a basket filled with food from the farm. Afterwards, Grover prepares to eat the basket of lunch that he brought back ...but Sidney ate it all.

Episode 4087
England: Cricket
When Grover mentions that he saw people play cricket, a cricket comes along to watch, repeatedly exclaiming "cricket" to Grover's dismay. After the film, Grover asks the cricket whether the film clarified what he was talking about. The cricket replies, in a cockney accent, that "of course" he knew, as he loves the game. He acts as bowler, but frustrates Grover by repeatedly calling him "guv'na". Grover replies "I have not even held public office!"

Episode 4085
France: French market
Grover visits Paris, France where he learns how to shop for food at a French market.

Episode 4132
Germany: Thatched roofs
Grover enters wearing a thatched roof on his head and rolling a bundle of reeds. He has just returned from Germany and is eager to make his very own thatched roof, a skill he learned from Paul, his friend from Germany. While he thatches away, we cut to a clip of Paul's father, a roofer, who is making a thatched roof for a house. This is a special kind of roof made from reeds. On his lunch break, he helps Paul and his brother make a thatched roof for a bird house. When we cut back to Grover, he proudly shows us the roof he has just completed.

Episode 4054
Hawaii: Hula
Grover has surfed back from Hawaii. He narrates his film while footage of a hula party plays. Afterward, Grover remembers that his grass skirt is a rental.

Episode 4130
Hawaii: Taiko drums
Grover has just swung all the way from Kauai, Hawaii on a banyan tree vine. He was there visiting his Japanese-American friend Miles. Miles and his family taught Grover how to play the Taiko drum. Grover has forgotten his drum back in Kauai. While he swings back to go get it, the segment cuts to a film showing Miles' parents teaching him and his brother how to play the Taiko drum. They put on a performance with their father wearing traditional Japanese costumes. (Grover appeared in

a different Taiko costume

for PR shots.)

Episode 4109
Iceland: Puffins
Grover opens a box he brought back from Iceland, but discovers that it is empty. To give us a glimpse of what was supposed to be inside the box, Grover rolls a clip about puffins in Iceland. Arna is a young, Icelandic girl who rescue baby puffins that have flown into town instead of out to sea where they belong. Arna and her family bring these baby birds back to their home, take care of them overnight and then take them to sea the next morning where they release them.

Episode 4101
India: Family
Grover arrives wearing an Indian vest and holding an Indian board game called Carrom. He has just come from Queens, where he was visiting his Indian-American friend. In the film clip, James talks about how great it is to be Indian-American, because he gets to learn about things from two different places. In addition to playing baseball, he likes to sing Indian music, read Indian stories, play Indian games, and eat and make Indian food. When the film is over, Grover attempts to play Carrom with the Elephant, who excitedly tosses the game pieces everywhere and claims to have won when he lands one of them in Grover's vest.

Episode 4069
Israel: Kibbutz
Grover goes Israel and meets some of the kids at a kibbutz. The children at the kibbutz make a play house together.

Episode 4073
Jamaica: Tie-dye
Using water-wings, Grover has just swum back to Sesame Street from Jamaica where he learned how to tie-dye a shirt, but he lost his shirt in the process. In the film clip, a Jamaican boy's neighbor is teaching him and other kids how to tie-dye a shirt by tying, boiling water, and using bottles and rocks. The colorful shirts are hung to dry until they can be worn. (First: Episode 3140) The live-action sequence ends, and a shark comes up to Grover wearing Grover's missing shirt. He offers to give Grover a lift back to Jamaica so that he can tie-dye another one.

Episode 4058
Jordan: Banana baskets
Grover comes back from Jordan, where they make baskets from banana leaves.

Episode 4044
Malaysia: Kites
Grover comes back from Malaysia, where they make kites with bamboo sticks, strings, glue and paper.

Episode 4059
Mexico: Puppets
Grover learns how to make puppets in Mexico.

Episode 4081
Mexico: Pottery
Grover visits Mexico and learns about making pottery.

Episode 4039
Mongolia: Bowl dance
Grover travels to Mongolia to watch the traditional Mongolian bowl dance. His friend Shali goes to a school to learn how to learn the difficult skill. Then, Grover performs his own version.

Episode 4083
Netherlands: Biking
Grover has just come from the Netherlands, where many people ride their bikes to get where they are going. Grover tries to ride his own bike, but can't seem to get the hang of it. Maybe he should start slowly like they do in the Netherlands. The segment cuts to a live action film of Grover's friend Madelief. She is almost four-years-old and she is going to learn how to ride a bike by using a walking-bike called a "loopfiets", which is like a regular bike but without pedals. When the film is over we return to Grover who has made his own walking-bike.

Episode 4043
Nicaragua: Bricks
Grover travels to Nicaragua and learns how to make bricks like his friend Gilberto. (First: Episode 2744) The film segment's original narration, by Gilberto, is replaced with a narration by Grover.

Episode 4120
Philippines: Park
Grover enters dragging a slide, which he has brought all the way back from a park in Manila, a city in the Philippines. Tired from the journey, Grover rolls a clip while he rests. In the clip, we meet Rodrigo and his family who are spending the day together at the park. They look at monkeys, go down the slide, ride up and down on a teeter-totter, eat guapo (a fruit that is part apple, part guava) and even take a nap to rest.

Episode 4066
Poland: Scarecrows
Grover goes to Poland and visits some grandparents that teach their grandchildren how to make scarecrows.

Episode 4077
Puerto Rico: Musical Fruit
Grover travels to Puerto Rico, where he watches a girl's teacher make a marimbo fruit into a guiro (a local musical instrument). He then tries to play a watermelon in several different ways, all of which fail.

Episode 4064
Russia: Dance
Grover learns how to dance from a boy in Russia who attends dance school. (Footage from this sequence could be seen in the opening of the show beginning in Season 34. However, its first appearance was held over until Season 35.)

Episode 4061
Saskatchewan: Cowgirl
Grover visits Canada, where a little girl talks about learning to be a cowgirl. The segment is narrated by Jasmina Lee.

Episode 4068
South Africa: Wire Car
Grover visits South Africa and learns how to make toy cars out of scrap wire.

Episode 4108
Tibet: Family
Grover has walked all the way from Tibet carrying a cup of yak's milk tea. Gladys the Cow comes in surprised, because she thought that milk only came from cows. The segment cuts to a live action film of Grover's friend Ling from Tibet. Her mom is milking a yak. They take the milk and churn it until it is thick and tasty. Ling and her family use the yak's milk in their tea, which the family really likes to drink. At the end of the film, Gladys has learned that milk can come from yaks, too.

Episode 4049
Trinidad: Stilts
Grover returns from Trinidad on a pair of stilts. In his film (First: Episode 3427), Asha and her friends practice and dance on stilts in preparation for a carnival. Afterward, Grover muses about the things he's learned to do on stilts...including the need to practice more.
Production crew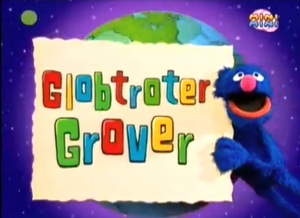 Executive Producer: Dr. Lewis Bernstein
Senior Producer: Carol-Lynn Parente
Producers: Melissa Dino
Directors: Victor DiNapoli, Jim Martin, Ted May, Lisa Simon, Emily Squires
Head Writer: Lou Berger
Writers: Molly Boylan, Christine Ferraro, Tony Geiss, Judy Freudberg, Joey Mazzarino, Luis Santeiro, and Belinda Ward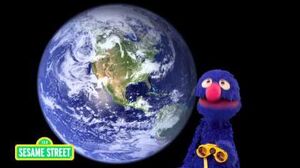 Google launched a "Global Grover" feature of their Google Earth tool that lets users explore the various international productions of Sesame Street.
Sources
See also