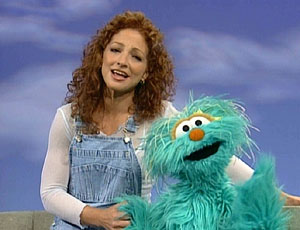 Gloria Estefan (b. 1957) is a Cuban singer who has made several appearances on Sesame Street. In 1991, she performed "Conga" with the entire cast, and sang a rendition of her song "1-2-3" with Big Bird and the Birdketeers. Later, Estefan performed "Mambo I, I, I" for Elmopalooza and appeared in the celebrity version of "Sing."
When the song "Mambo I, I, I" was released on the CD Hot! Hot! Hot! Dance Songs, the performance was credited to Gloria Esteworm and The Miami Slime Machine, a nod to her band The Miami Sound Machine. Gloria Esteworm was also featured in episode 3448 of Sesame Street, when she performed at the Worm World Music Festival.
Her song "Rhythm Is Gonna Get You" is performed in the Sea World show Bert and Ernie's Island Holiday and Can't Stop Singing.
References
External links
Community content is available under
CC-BY-SA
unless otherwise noted.