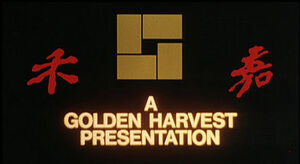 Golden Harvest is a Hong Kong film company established in 1970. The studio is well known today by making popular martial arts movies from the 1970s and 1980s and launching Bruce Lee and Jackie Chan to worldwide stardom.
After making Enter the Dragon in 1973 the studio began making English language films for the western market including the Cannonball Run films which featured many multiple Muppet Show guest stars.
In 1990 Golden Harvest produced Teenage Mutant Ninja Turtles and Teenage Mutant Ninja Turtles II: The Secret of the Ooze (in 1991) where Jim Henson's Creature Shop supplied the creature effects. In the sequel, the film was dedicated to Jim Henson's memory.