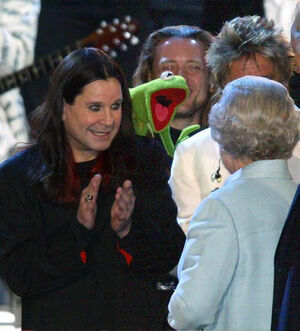 Golden Jubilee for Queen Elizabeth II was a celebration of the Queen's 50th year of ruling the United Kingdom, held on June 3, 2002.
Kermit the Frog and Ruby Wax joke about how they can "borrow" the crown jewels. They decide that the queen might listen to their plan, so they try to create a diversion by introducing Tony Bennett.
Other performers included Sir Paul McCartney, Mick Jagger, Ricky Martin, Ozzy Osbourne, Tom Jones, Brian Wilson, Rod Stewart, and Joe Cocker. For the finale, while McCartney performed "Hey Jude," the entire cast gathered on stage, with Kermit perched on Tom Jones' shoulder.
On George Stroumboulopoulos Tonight, Kermit said that he was at a urinal next to Ozzy. Osbourne was apparently unaware that Kermit was using the unit next to him because he's "very small;" the frog wouldn't "say any more on that," leaving the comment quite suggestive.
Community content is available under
CC-BY-SA
unless otherwise noted.