Music by
Allie Wrubel
Lyrics by
Herb Magidson
Date
1937
Publisher
Bourne Co.; Music Sales Corp.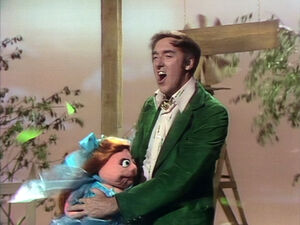 "Gone with the Wind" is a classic song of love that is lost, like leaves or smoke that blow away with the wind. It was a #1 hit for Horace Heidt in 1937, the year it was first published, and has since become a standard. The vivid imagery lends itself readily to dramatization.
Variations
In Season 1 of Sesame Street, Guy Smiley sang the song to a young woman. During the song, a very strong wind blows, making the leaves fly off the tree, causing the woman's house to collapse, and finally ripping Guy's clothes off. This segment first appeared in Episode 0034.
See also
External links