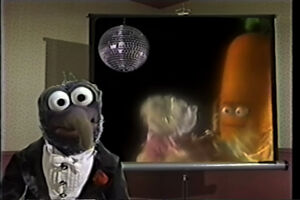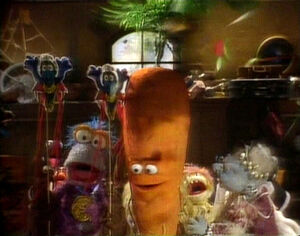 "Gonzo's Talent Hunt" is one of the fifteen unaired episodes of the short-lived series, Little Muppet Monsters. The episode was not completed before the series was canceled, but is known to feature "Fozzie's Comedy Corner," and animated segments of "Pigs in Space" and "Kermit the Frog, Private Eye." It also features the original song, "Together."
Today, the Little Muppet Monsters are holding a talent show, featuring special reports from a globe-trotting Gonzo as he finds new and interesting acts. His first report is from Paris, France with a dancing gargoyle. The judges, a trio of chickens, are pleased. Tug Monster sets out to find some great acts that will definitely impress the judges and Gonzo.
He brings in a dancing team known as Phil and Wilhemina, only Phil has ditched the act to join the dancing gargoyle in France. Wilhemina tries to go solo, but receives low scores from the judges. Tug brings in a new act - a seven-foot tap dancing carrot, who rattles the basement (and the judges, who score him 0 as well). Meanwhile from New York City, Gonzo showcases another great act - the Singing Salad.
Tug is disappointed that all his acts have been duds, while Gonzo's are well-received. Soon, he suggests that Wilhemina and the carrot try to dance together. The two sing and dance, an act Gonzo considers the weirdest he's ever seen and awards Tug the "Gonzo Medal" for finding the world's weirdest act.
Cast