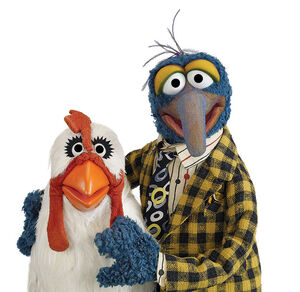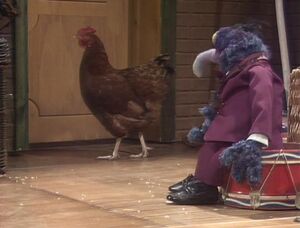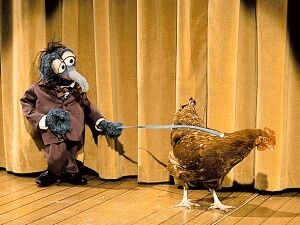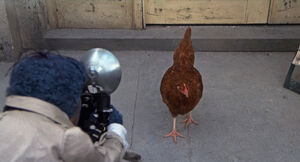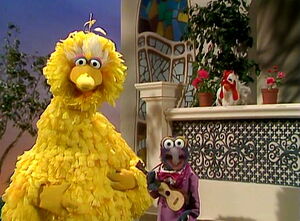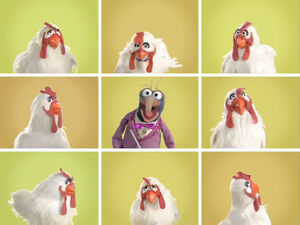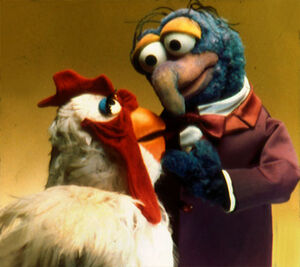 Gonzo's amorous desires are most often centered on chickens. This poultry passion first surfaced in episode 204 of The Muppet Show, when he held auditions for dancing chickens. Dave Goelz ad-libbed the line, "Don't call us, we'll call you... nice legs, though!" After this, the writers decided that Gonzo should have an attraction to chickens.
Episode 318 introduced Gonzo's regular chicken girlfriend, Camilla (although even Gonzo doesn't know which chicken is Camilla sometimes; they all look alike).
In Muppet Babies, like his grown-up counterpart, Baby Gonzo also has an obsession with chickens.
Although Camilla is the only chicken with a regular name and personality, there have been instances where Gonzo has refered to other chickens by name. In The Muppet Christmas Carol Gonzo introduces a live chicken to Rizzo named Louise. Gonzo also did a dancing chicken act with a live chicken named Lolita. The Tuxedo Gonzo Action Figure by Palisades Toys includes a pack-in figure of a chicken named Bernice. In the audio commentary for "Bohemian Rhapsody", Gonzo mentions that the other two chickens in the video besides Camilla are named Ethel and Stephanie.
References
In The Muppet Movie, Gonzo compliments Miss Piggy by saying, "If you were a chicken, you'd be impeccable."
During the opening musical number of The Great Muppet Caper, Gonzo gets distracted and misses the robbery of Lady Holiday's jewels because he's trying to take a picture of a chicken. Gonzo tells the chickens to "Smile, chicky babe... Look up... Hey, do you wanna make the front pages or not?" He later tells Kermit that he "got a great picture of the chicken."
In The Muppets Take Manhattan, Gonzo writes to Kermit stating: "Camilla and I have joined a traveling aquacade. It's not like Broadway, but I have met some good-looking chickens here."
In a 1994 interview, Kermit the Frog was asked, "What is it with Gonzo and chickens?" Kermit responded: "I've never asked him. And frankly, I don't really want to know. It's sort of a don't-ask-don't-tell poultry policy."[1]
In a 1999 interview about Muppets from Space, Brian Henson states an early draft of the script alluded to this as being a trait of Gonzo's alien species:
"We tried to explain the chickens in one of the drafts, but we gave up. We decided these aliens, for whatever reason, just think chickens are the greatest.[2]"
In a 2000 interview, Dave Goelz commented on Gonzo's chicken fixation, stating:
"A pivotal moment was when he tried to put together a dancing chicken act. There were some scenes in which he was auditioning chickens backstage, and I ad-libbed a line that has formed a large part of his character ever since. As usual, Mike the animal trainer promised that the chickens would be able to do whatever we asked as long as he had three weeks to train them. So he got his three weeks, and when they came in, they wouldn't dance. Not one step. By the way, Jim had a thing about chickens. He just thought they were hysterical. That's why we were using them. So we were shooting, and Gonzo says stuff like, "Do a little timestep for me." And the chicken just stands there. "Well, how about a pirouette? Do something. Anything." The chicken just stands there. Finally, the chicken turned around and walked out, and Gonzo called after her "Don't call us, we'll call you." Then he turned to the camera and said, "Nice legs though!" Jim cracked up. That weird attraction to chickens just made him so strange, and it was something Jim liked a lot. So Gonzo soon got a chicken girlfriend, Camilla. Whenever it came time to shoot with Camilla, we could never remember what color her eyes were. Sometimes we used blue, sometimes green, and so forth. So Jim and I developed this theory that Gonzo actually couldn't tell the difference between the chickens, and whatever chicken he could get to come along with him, he would call Camilla. Chickens, being limited intellectually, were happy to go along with this.[3]"
During a 2007 Q&A session in San Francisco, Gonzo was asked what local attractions he should check out. One audience member suggested seeing the seagulls at pier 49. Gonzo questioned, "What do they do?" to which another audience member shouted out, "they're like chickens, only sexier." Gonzo replied: "Wow! Do they charge?" (YouTube)
At a 2008 appearance at the Arizona Museum for Youth in Mesa, Arizona, Dave Goelz said:
"Jim and I used to talk about it - that Gonzo is just an opportunist really. Any chicken is as good as any other chicken - as long as it's a hen. So the chickens don't know any different, cause they're not that bright. If you've ever spent any time with chickens, you know they're operating at a baseline. (YouTube)"
In a 2009 interview, Dave Goelz was asked "What's the deal with Gonzo and all those chickens?" Goelz responded:
"It's just physical. I don't think it's any lasting attachment. The way it happened was, Gonzo had a crush on Piggy on the first season of The Muppet Show, and she would just deck him with a karate chop. And then the writers decided Gonzo would audition dancing chickens. And they arranged with our animal trainer, Mike, to train some chickens to dance. Mike said, "Well, I can do it, but I'll need three weeks."

He claimed he could teach real chickens to dance. And so the day of the shoot came, and the chickens came in, and they just didn't do anything. And Jim just loved this—he loved chickens 'cause he thought they were so silly. We had Gonzo set up in the basement of the theater on a box, and somebody outside the door would throw a chicken in, and the chicken would walk around, and I would ad-lib. I had to ad-lib, because we didn't know what the chicken was going to do. All they did was walk in and peck at the floor a few times, and then walk off the set…. I had Gonzo look to the camera and say, "Nice legs, though." And Jim just fell apart, he thought that was so hysterical. So that's how Gonzo's fixation with chickens started.[4]"
A Portland journalist told Gonzo in a 2009 interview that the city has a giant population of urban chickens; Gonzo replied, "No! Are you serious? Right in the city? I'm free Saturday night!"[4]
In a 2009 interview Gonzo was asked what's with him and "the chickens?" Gonzo replied:
"It's interesting you ask me that! A lot of people would maybe want to discuss that with a chicken. But that would be a tabloid angle ... I appreciate you coming to me directly. Because chickens aren't too articulate, and their memories aren't that good. So what's with me and the chickens? Truthfully, it's mostly physical. And between you and me, it's the legs! I love the legs.[5]"
Gonzo made some scandalous comments about his favorite parts of chickens in a deleted portion of The Nerdist Podcast interview with the Muppets in 2010. Chris Hardwick described the remarks later in his 2014 podcast interview with Brian Henson; as Hardwick stated: "I was like 'what is it that you like about a chicken?' and he just goes 'Oh, God, I don't know, you ever just look at their leg where it goes all the way up and connects right to...' and it just starts getting really creepy and I'm thinking it's amazing, and then afterwards the official Muppet folks were like 'maybe don't put that part in.' Because it was so in-detailed. 'Right where the leg connects to the underside, I mean how could you not be in love with that?' He was so true, it was so human for lack of a better word, it was so true and totally made sense. I mean, I was like 'oh, yeah, this is the inside of Gonzo's head. This is what he thinks about this thing.'" To that Brian Henson replied, "Well, Gonzo is very twisted. He's got very deep-rooted perversions. "
At the D23 Expo in 2015, Gonzo was asked what he looks for in a date, he responded, "With the chickens, it's the legs."[6] Later, an audience member asks if he's seen the Muppet skits on Robot Chicken. Gonzo, unfamiliar with the show, said "I haven't seen it, but I'm open to dating it." Rizzo commented, "These are blowup chickens?" to which Gonzo looked shocked. Rizzo concluded: "It's okay, you've gotta go there sometimes."
In a 2018 "Show & Tell" promotional video for Muppet Guys Talking, Goelz told the story of how Gonzo's chicken attraction began. He then states a year or two after the taping, he was mailed a copy of Dennis Nolan's book, The Joy of Chickens, "autographed" on the inside by Kermit the Frog.
Notes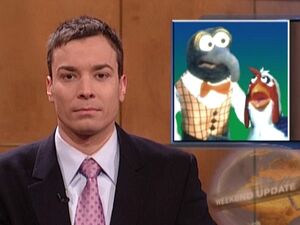 In a 2002 "Weekend Update" segment on Saturday Night Live, Jimmy Fallon joked about a real news story stating, "A man in Indiana was arrested for stealing a chicken, taking it to a motel, and having sex with it until it died. Police have issued a warrant for this man" - wherein a picture of Gonzo was displayed.
See also
Sources
Community content is available under
CC-BY-SA
unless otherwise noted.