Gonzo's chili pepper shirt is a bright yellow button-up dress shirt with a chili pepper pattern. Gonzo occasionally wears it with a polka-dot tie or a black and yellow checkered sportcoat.
According to a Disney.com character profile, Gonzo's wardrobe includes purple tuxedos, checkered suits, and "anything with chili peppers on it."[1]
In an interview on Pebble Mill, Gonzo claims the shirt was designed by Pipi Sanchez.
Merchandise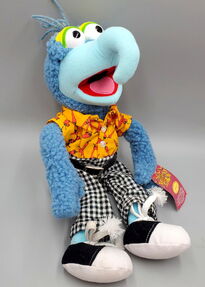 Notes:
Sources
↑

Disney.com character bio (retrieved June 18, 2010; November 14, 2011)
See also