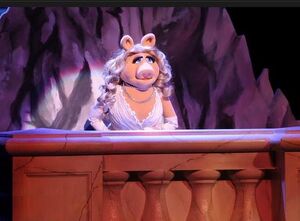 The Good Housekeeping Shine On Event was a one time event held on April 12, 2010, which celebrated Good Housekeeping's 125th anniversary, and was dedicated to "125 Years of Women Making Their Mark."
The event was held at Manhattan's City Center, and was hosted by Brooke Shields. The event coincided with a special issue of the magazine which was titled "125 Women Who Changed Our World" (including Joan Ganz Cooney). The money raised from the gala went to build the National Women's History Museum in Washington, D.C. Miss Piggy was among the presenters for the evening, bantering with Marlo Thomas on stage.
Among the celebrity attendees and performers were Phil Donahue, Meryl Streep, Marlee Matlin, Fran Drescher, Aretha Franklin, Candice Bergen, Cheryl Tiegs, Nora Ephron, Hilary Duff, Jessica Simpson, and Dorothy Hamill.
Aside from Cooney, other women honored included Barbie, Oprah Winfrey, and Michelle Obama.