Music by
from Piae Cantiones
Lyrics by
John Mason Neale
Date
music, 13th cent.; lyrics, 19th cent.
Publisher
public domain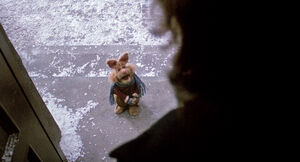 "Good King Wenceslas" is a traditional Christmas carol. It tells a story about a historical figure, Saint Wenceslaus I, Duke of Bohemia (907-935). In the song, the good king and his servant bring food and wood to a peasant on St. Stephen's Day, which is December 26. The servant grows cold, but his master is so saintly that he leaves heat in the ground where he passes, leading to the concluding moral that "Ye who now will bless the poor, shall yourself find blessing."
The first verse of "Good King Wenceslas" is sung by Gonzo, backed by the casts of The Muppet Show and Sesame Street during the carol medley in A Muppet Family Christmas.
Bean Bunny sings the carol in The Muppet Christmas Carol only to have a wreath thrown at him by an irate Ebenezer Scrooge. An instrumental version of the song appears on the film's soundtrack and the song is one of the handful of traditional Christmas carols musically incorporated and alluded to throughout the film's score.
In Elmo's Christmas Countdown, Oscar comments that Christmas cheer is a pain "in the King Wenceslas".