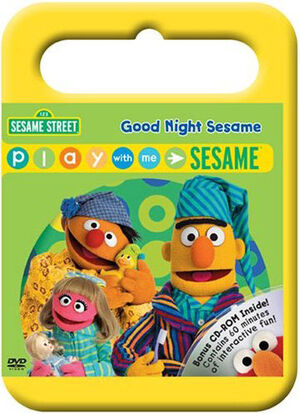 Good Night Sesame is a DVD of Play with Me Sesame. The DVD comes with a bonus CD-ROM with more than 40-minutes of interactive activities.
The title had previously been released in Region 4.
Segments
Ernie Says: snore
Ernie plans for bed
Grover and the cast sing "Twinkle Twinkle Little Star"
Big Bird prepares for his nap, and explains that sometimes he takes one even when he doesn't feel like taking a nap
Ernie and Rubber Duckie line up ducks on a computer from ducks with the least bubbles to the most bubbles
The cast asks the viewer to say "Sesame" when they say "play with me" quieter
Elmo and Telly Monster have a sleepover, but when Telly snores loudly, Elmo tries to find a way to block the sound from his ears
Grover sings "Twinkle, Twinkle, Little Star" in two different ways: quietly and loudly
Ernie reads a sad, funny, scary story
Prairie Dawn suggests that the viewer make laughter when the cast says "play with me"
Ernestine Says
Grover introduces the next song
Grover introduces a clip with The Two-Headed Monster singing "Twinkle, Twinkle, Little Star", and decides to sing it in a silly way
Bert plays a computer game: "Perfect Pairs", using shoes
Elmo talks about how people sleep
Grover and Ernie get Ernestine to sleep by singing the word "Wubba"
CD-ROM
A, B, C Read with Me
Video: "Elmo's Alphabet Rap"
Game: Letters to Big Bird
Video: The Letter of the Day: M
Game: Sesame Street Bumper Cars
Video: "In My Book"
Game: Henry the Little Fish and His First Day of School"
Video: Elmo reads a book he wrote to Doug E. Doug
Animals All Around
Video: The Spanish Word of the Day: Gato
Game: "Zoe's Pet Shelter"
Video: Ernie has Bert guess what animal he's pretending to be
Game: "Foot Prints"
Video: kids talk about their pets
Game: "Snuffy's Safari"
Video: "Hop, Hop, Shake Your Head"
1, 2, 3, Count with Me
Game: "Egg Counting Elmo"
Video: The Count counts Robins
Game: Walking the Dog
Video: kids count apples in an apple tree
Game: Cooking with Rosita
Video: Kids count to 10, as they appear and dance
International releases