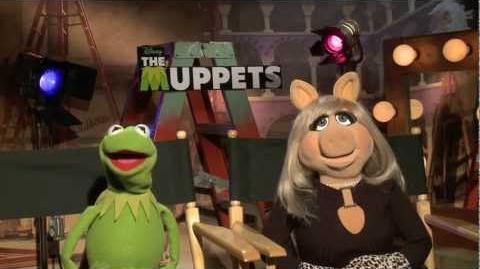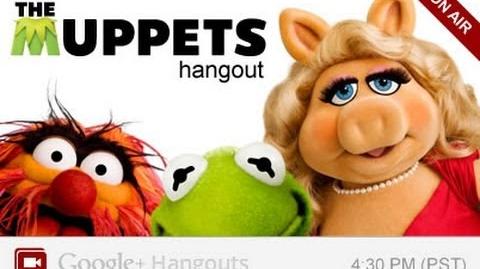 Google + Hangout is a chat service by Google which requires a special plugin and a webcam; it is integrated into Google+ social network. On November 7, 2011, a video featuring Kermit and Miss Piggy was uploaded to the The Muppets Studio's YouTube channel announcing that the Muppets would be hosting a Google+ Hangout which took place the same day at 4:30 pm PST/7:30 pm EST. This also served as a promotion for The Muppets. Kermit, Piggy, Walter, Jason Segel, James Bobin, and Nick Stoller (and a bowl of grapes brought by Walter) joined the chat. After the chat, an ad showed for an exclusive hangout with Kermit and Piggy.
The hangout was uploaded by Google the following day to the Google+ Hangouts channel.
Gallery
Trivia discovered from the chat
The night the Muppets started taking over Hollywood Boulevard was Jason Segel's birthday. All the Muppets on the set sang him "Happy Birthday".
There is a scene in The Muppets where Piggy sings "Rainbow Connection" with Kermit. This is Piggy's favorite scene.
James Bobin says a scene in which Gary is looking for Walter and discovers a sheep eating a script at the end of the movie is his Muppetiest part in his opinion.
Promotional video
Muppet YouTube videos were featured in an online and TV ad for Google+ Hangouts using David Bowie and Queen's "Under Pressure" on December 22, 2011.
External links