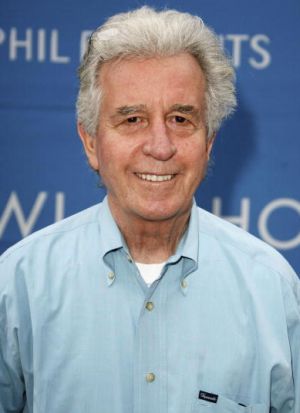 Gordon Hunt (1929-2016) was an actor, director (especially of voice recording), and acting teacher. He was the father of actress Helen Hunt, and directed many episodes of her TV series Mad About You. Early in his career, Hunt was one of the readers in the Jim Henson-produced documentary Youth 68, reciting facts and quotations (both on-screen and in voice-over).
Shortly after Youth 68 aired, the then-New York based Hunt began working with Bil Baird, directing his off-Broadway marionette productions of The Whistling Wizard and the Sultan of Tuffet and Winnie the Pooh.
Hunt moved to Los Angeles, where he taught master classes in acting and directed at the Mark Taper forum. He later wrote the book How to Audition. In addition, he spent over thirty years as a leading voice-over director in cartoons and video games, especially for Hanna-Barbera. HB series included The Flintstones Comedy Hour, The Smurfs, The Jetsons, Scooby-Doo, Super Friends, Challenge of the GoBots, several Yogi Bear projects, The Snorks, The Completely Mental Misadventures of Ed Grimley, and The New Adventures of Captain Planet.
Hunt also voice directed several Looney Tunes compilations (including the feature film Daffy Duck's Quackbusters) and voiced the off-camera director (essentially, himself) in the 1991 Bugs Bunny short Blooper Bunny. He was occasionally heard on other shows he voice directed, and as a voice actor only, he was a regular on the Dilbert animated series as Wally. Video game credits (later directing motion capture actors as well as voice-over) include the Legacy of Kain and Uncharted series.
In addition to Mad About You, Hunt directed episodes of Frasier, Coach, Suddenly Susan, and Caroline in the City. He appeared on-camera in episodes of Cheers and Mad About You (as a TV host), and in films (often in scenes involving improv), such as a group therapy leader in Ken Russell's Crimes of Passions (with Anthony Perkins). His later stage projects included a 2006 Hollywood Bowl production of The Sound of Music. Hunt's brother, Peter H. Hunt, directed the stage and film versions of 1776.
External links
Community content is available under
CC-BY-SA
unless otherwise noted.