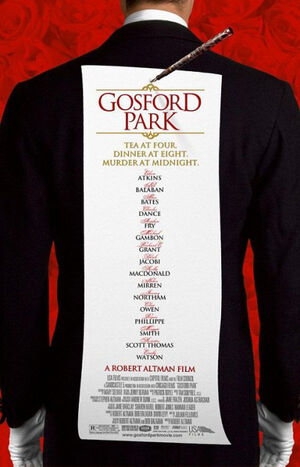 | | |
| --- | --- |
| Released | 2001 |
| Duration | 137 minutes |
| Director | Robert Altman |
| Written by | Julian Fellowes |
| Music | Patrick Doyle |
| Studio | USA Films |
| Rated | R |
Gosford Park is a 2001 film combining the period drama, mystery pastiche, and social commentary on the class divisions in 1930s England. Incorporating multiple storylines, the film gathers a motley group of guests at the weekend home of Sir William McCordle (Michael Gambon), and tensions both below and above stairs culminate in the lord of the manor's murder.
Digital effects for the film were provided by Jim Henson's Creature Shop.
Cast
Eileen Atkins as Mrs. Croft
Bob Balaban as Morris Weissman
Alan Bates as Jennings
Charles Dance as Raymond Stockbridge
Stephen Fry as Inspector Thompson
Michael Gambon as Sir William McCordle
Richard E. Grant as George
Tom Hollander as Anthony Meredith
Derek Jacobi as Probert
Kelly MacDonald as Mary Maceachran
Helen Mirren as Mrs. Wilson
Jeremy Northam as Ivor Novello
Clive Owen as Robert Parks
Ryan Phillippe as Henry Denton
Maggie Smith as Constance Trentham
Geraldine Somerville as Louisa Stockbridge
Kristin Scott Thomas as Lady Sylvia McCordle
Sophie Thompson as Dorothy
Emily Watson as Elsie
James Wilby as Freddie Nesbitt
Frank Thornton as Mr. Birkett
Community content is available under
CC-BY-SA
unless otherwise noted.