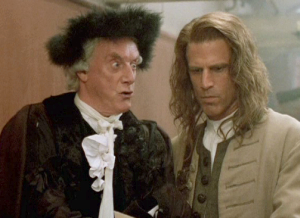 Graham Crowden (1922-2010) was a Scottish-born actor who made a cameo appearance in Gulliver's Travels, as the professor of politics.
A noted stage actor, Crowden performed with the National Theater, originating roles in two Tom Stoppard plays, the Player in Rosencrantz and Guildenstern Are Dead and Archie McFee in Jumpers, opposite Diana Rigg and Michael Hordern. His television credits include a starring role as Tom Ballard in the serio-comedy Waiting for God and guest spots on Doctor Who, Rumpole of the Bailey, and Midsomer Murders.
Crowden played key supporting roles in the dark comedy The Ruling Class (with Peter O'Toole), Brittania Hospital (with Fulton MacKay), The Company of Wolves (with David Warner), Jabberwocky (with Terry Jones), and Calendar Girls (with Helen Mirren and Julie Walters). His daughter is actress Sarah Crowden.
External links