Granny Bird is Big Bird's paternal grandmother, who first appeared in Episode 0030. She is almost identical in appearance to her grandson except for her clothes, the gray feathers in her forehead, faded eyelids, and eyeglasses. In Episode 3006, it is revealed that Granny Bird is Big Bird's grandmother on his father's side.
The puppet used for Granny Bird is usually a spare Big Bird puppet. During Caroll Spinney's tenure as Big Bird, Spinney also performed Granny Bird. The two would not appear onscreen together until the early 1990s. In instances where they have shared scenes, Spinney often pre-recorded Granny Bird's dialogue, which would be synced by another puppeteer while Spinney performed Big Bird. Matt Vogel voiced her in a short appearance in the Sesame Beginnings video, Beginning Together. Since Episode 4826 in 2018, Jennifer Barnhart has taken over the character.
Granny Bird's residence has changed over the years, beginning with a place downtown from Sesame Street mentioned in Episode 0078. She also lives on a farm mentioned in Episode 0400, deep in the woods at 12 Forest Road in Episode 3006, a house that appears to be out in the country in the 1988 storybook Nothing to Do, and a beach house in I Want to Go Home!
Big Bird has referenced "my grandmother" on Zhima Jie: Da Niao Kan Shijie, a Chinese co-production, and she has appeared in animated form
on Sesame Street Japan's YouTube channel. (YouTube)
Episodes
Image
Episode/Year
Description

Episode 0030
(1969)
Granny Bird comes to visit her grandson in her first appearance on the show.

Episode 1589
(1981)
Granny Bird pays a surprise visit while her grandson is out (trying to make a surprise visit to her place).

Episode 1717
(1982)
Granny Bird visits and bonds with David's grandmother Grace.

Episode 1932
(1984)
As they watch David and Akim rollerskate, Granny Bird encourages Grandma Grace — who hasn't skated since she was Akim's age — to give it a try. Granny Bird skates circles around them, but eventually takes a fall; "If you're young enough to skate, ya gotta be young enough to fall down!"

Episode 3006
(1992)
Big Bird visits Granny Bird on Grandma's Day, and finds a wolf sleeping in her bed. Fearing the worst, Big Bird accuses the wolf of eating Granny Bird, but it turns out that this is Granny Wolf, Granny Bird's best friend. Big Bird had the addresses mixed up -- Granny Bird lives on 12 Forest Road, and Granny Wolf at 12 Forest Street.

Episode 3517
(1996)
Big Bird is expecting Granny Bird for a visit to his nest. When Granny Bird can't get on a plane and cancels, Big Bird is crushed. Soon, his sadness turns to fury and he starts yelling to relieve his anger. While he is yelling, Granny arrives, stating that she managed to get on another plane. Bob lets Big Bird know she's here, but he refuses to come out of his nest. Granny is surprised that he is angry at her and promptly leaves. Big Bird finally calms down, but becomes angry again when he realizes that she left. Once the two Birds are united, Granny insists, in song, that even if they are apart, she will always love him.

Episode 3979 & 3980
(2001)
When Big Bird's nest is destroyed in a hurricane, Granny Bird provides suggestions over the phone about how to rebuild the nest. This was later released on home video as Friends to the Rescue.

Episode 4039
(2003)
Big Bird receives a package of birdseed cookies from Granny Bird and imagines telling her he loves her; his thought bubble responds back.

Episode 4086
(2005)
Big Bird and Alan bake birdseed cookies for Granny Bird's visit.

Episode 4149
(2007)
Granny Bird appears to Big Bird in a thought egg to remind him that birds always have a song in their hearts.

Episode 4826
(2018)
Granny Bird appears in the opening and closing scenes with Big Bird. She's knitted his grandson a sweater that shrunk in the wash, making it the perfect size for Radar.

Episode 5001
(2019)
Granny Bird is among those to bid farewell to Big Bird as he leaves for a road trip.

Episode 5132
(2021)
Granny Bird flies to Sesame Street to surprise Big Bird on Family Day.
Other appearances
Book appearances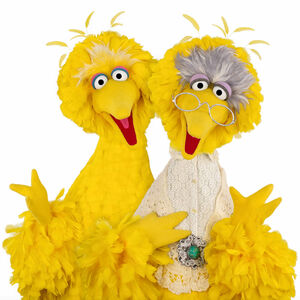 Granny Bird makes a substantial appearance in the 1989 Little Golden Book I Can't Wait Until Christmas. In illustrated form, Granny Bird loses her gray feathers and consequently looks even more like Big Bird, although she does sport a pair of pince-nez eyeglasses.
See also
External links