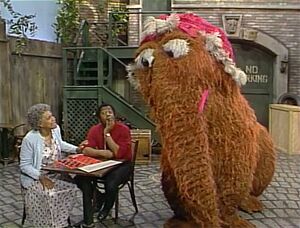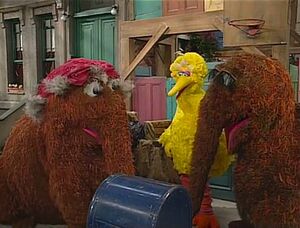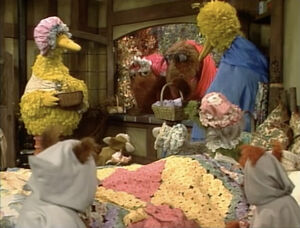 Granny Snuffle is Mr. Snuffleupagus and Alice's grandmother. She lives in Cincinnati, Ohio which is far enough away from the Snuffleupagus family that she needs to take a plane to visit them. She enjoys visiting with her relatives, making cole slaw and spaghetti soup, and singing "Snuffle Off to Buffalo" with her grandchildren. Snuffy goes to visit her in Ohio in Elmo Saves Christmas. It is revealed in episode 3006 that she is Snuffy and Alice's grandmother on their mother's side.
She appeared in a 1989 (season 20) episode, a 1992 (season 24) episode (where she is introduced as "Snuffle Granny"), a 1998 (season 29) episode, and a 2002 (season 33) episode.
In one appearance, she was played by Jennifer Barnhart (her first time performing on Sesame Street).[1]
Book Appearances
Sources
Community content is available under
CC-BY-SA
unless otherwise noted.