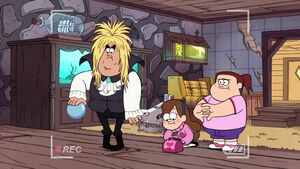 Gravity Falls is an animated series that aired on Disney Channel and Disney XD from 2012 to 2016. The series follows the adventures of twin brother and sister Mabel and Dipper Pines, who investigate paranormal happenings with their uncle.
Mentions
In the second season episode "Sock Opera", the end credits features a brief live-action sequence depicting the characters as puppets. Grunkle Stan and Old Man McGucket are shown watching the show in a balcony and commentating à la Statler and Waldorf.
In a Nerdist writer's panel podcast, creator Alex Hirsch revealed an abandoned story idea for an episode that would have parodied Labyrinth featuring Dipper as the brother who was stolen, and Mabel as the reluctant sister who would rather hang out with the "Groblin" King. It would have begun with Mabel watching a Labyrinth-like movie for the nth time, and Dipper complaining about it so much that she wishes him away. Dipper would eventually reveal the reason why he hates the movie is because he's terrified of puppets. The episode went unproduced because Disney Channel executives didn't think anyone would understand the reference.[1]
Connections
Sources