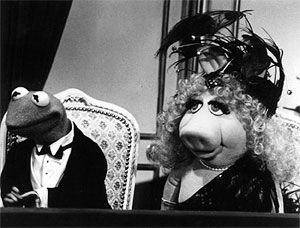 Great Performances is an anthology show on PBS which spotlights live concerts and documentaries on performing artists.
Appearances
Kermit the Frog and Miss Piggy hosted an episode broadcast on December 7, 1985 featuring the San Francisco Ballet performing Cinderella (from Prokofiev's score). The ballet was choreographed by Lew Christensen and Michael Smuin with Evelyn Cisneros as Cinderella and Vane Vest and Tom Ruud as the stepsisters.
A promotional bumper filmed for the 1985 appearance was later used in The World of Jim Henson, a 1994 special which also appeared in Great Performances.
Elmo appeared on December 7, 1994's Natalie Cole's Untraditional Traditional Christmas. He tries to help Cole throughout the program, including preparing a literal rock for her performance of "Jingle Bell Rock." He also participates in Cole's choir during a gospel medley. Norman Stiles is credited for writing Elmo's material.
References
Connections
External links