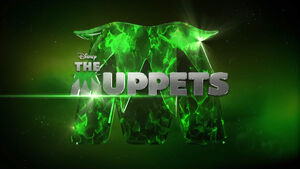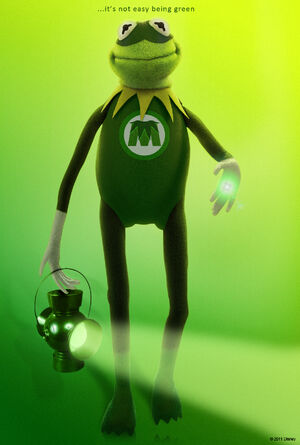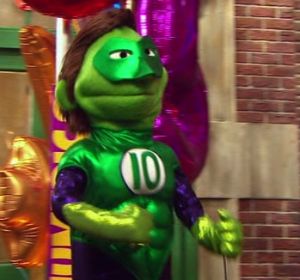 Green Lantern is the name of several characters published by DC Comics since 1940. Created by artist Martin Nodell and writer Bill Finger, the Green Lanterns battle evil using a ring that bestows great powers upon them.
References
A teaser trailer released for The Muppets in June 2011 parodies the look and feel of the theatrical Green Lantern feature film released to theatres the following weekend. The beginning of the trailer features a voice-over reminiscent of the Green Lantern oath, spoken by Kermit the Frog. A mock promo poster was also released featuring Kermit as a Green Lantern. He wears The Muppets movie logo as his chest emblem, and the poster's tagline reads "It's not easy being green." The spoof resulted in two pieces of merchandise: a Funko Pop figure in 2017, and a Comic Con plush in 2019.
Crichton: So once I get it on, how do I get it to work?
D'Argo: It just, uh, does.
Crichton: Right. Willpower. Like the Green Lantern's ring.
In Episode 4504 of Sesame Street, Elmo says his favorite number hero is the Green LanTen and hopes to count to 10 with him. The character doesn't actually appear in the broadcast episode, but he is seen in the extended DVD version on Elmo's Super Numbers.
Muppet Mentions
Various Green Lantern comic books have made mention to the Muppets. (see gallery below)
DC Comics writer Geoff Johns, who revived one version of the character in 2005 and introduced other Lanterns in the color spectrum, was asked by Newsarama who might voice the Orange Lantern Larfleeze in a potential animated feature. Johns replied, "I know he sounds like a Muppet, but I don't know which one."[1]
In 2006, Robert Smigel wrote a script for a proposed Green Lantern comedy starring Jack Black. One scene involves a Green Lantern using his ring to create a construct of Elmo in a sexual encounter with Barbara Walters.[2] The script also describes some alien creatures who look like Muppets (on pages 62 and 63).
Connections
Sources
Community content is available under
CC-BY-SA
unless otherwise noted.