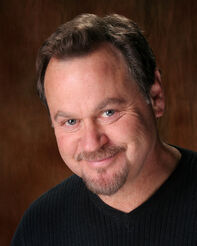 Gregg Berger (b. 1950) is a voice actor who has been heard in several Sesame Street animated inserts, notably in the recurring role of the Bellhop. In 2011, he was heard in the Sesame video game Once Upon a Monster.
Berger's cartoon resume is highlighted by his work in the many Garfield specials and Garfield and Friends, as the barking Odie, Orson Pig, the mailman, Mad Man Murray, and many others. Other series credits include Transformers (as Grimlock, Outback, and others), Aaahh!!! Real Monsters (the Gromble), Duckman (Cornfed), Spider-Man (Mysterio and Kraven the Hunter), The Pink Panther and Sons (Bowlhead), and This Is America, Charlie Brown (various historical figures), plus episodic roles on Batman: The Animated Series and Superman.
Berger filled in for Peter Cullen as Eeyore in various Winnie the Pooh projects, notably talking toys, the Disneyland ride, and the Kingdom Hearts II video game. Animated features include Rover Dangerfield, Little Nemo: Adventures in Slumberland, and The Rugrats Movie. Berger's occasional on-camera appearances include the films Attack of the Killer Tomatoes, Spaced Invaders, and Police Academy 7: Mission to Moscow, as well as guest spots on Fame, Perfect Strangers, and Alice.
External links