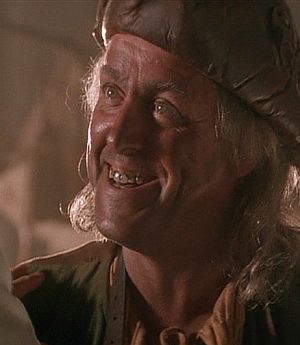 Griff Rhys Jones (b. 1953) is a Welsh comedian, actor, and writer who played Geppetto's friend Tino in the Creature Shop-effects film The Adventures of Pinocchio. He had previously appeared with Dog in the special A Night of Comic Relief 2.
Rhys Jones graduated from Cambridge, where he befriended Douglas Adams and became president of the Cambridge Footlights troupe. first established himself on the sketch comedy Not the Nine O'Clock News in 1980. He replaced Chris Langham as a writer/performer for the second season, since producer John Lloyd was dating Rhys Jones' sister at the time. When the series ended, he partnered with fellow News actor Mel Smith in a new series, Alas Smith and Jones (1984-1998). Other TV credits include various specials and other series with Smith, hosting the historical architecture series Restoration, pantomimes of Aladdin and Jack and the Beanstalk, and guest appearances on Casualty, Jonathan Creek, and Marple (as Dr. Quimper in "The 4:50 from Paddington.")
For BBC Radio, Rhys Jones starred as P. G. Wodehouse's Stanley Featherstonhaugh Ukridge in a 1991 series and played Old Thrashbarg in the 2005 "Quandary Phase" of The Hitchhiker's Guide to the Galaxy. Sporadic film credits include Wilt (with Smith and Alison Steadman), the 1992 version of As You Like It (as Touchstone), and the film version of Spike Milligan's novel Puckoon (with Elliott Gould and Richard Attenborough).
His stage credits have recently included appearing in the 2009 London revival of Oliver!.
External links
Community content is available under
CC-BY-SA
unless otherwise noted.