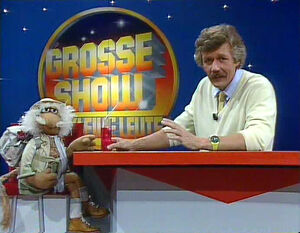 Grosse Show für kleine Leute ("Große Show für kleine Leute" in German, which translates to "Big Show for Small People") was a German variety show TV-special for children that was recorded on October 15, 1984, and aired on December 1, 1984 on ZDF.
The show, which was produced at Studio Hamburg, was hosted by singer/songwriter/producer Rolf Zuckowski and TV hosts Carlo von Tiedemann and Sabine Sauer, who were assisted by clumsy Muppet-style full-body character Leopold the penguin. The special also featured appearances by comedian Otto Waalkes and singer Mary Roos.
During an interview section of the show with Carlo von Tiedemann, a very thirsty Uncle Traveling Matt appeared to promote the theatrical release of Die Muppets erobern Manhattan, presenting the clip "I'm Gonna Always Love You," still undubbed. The Fraggle appeared still a bit stunned from his visit to the city of Hamburg's red-light district St. Pauli - Reeperbahn, where he claimed to have seen the movie.
During the show, a group of children sang the song "Nachts sind wir bei unser'n Freunden" ("At Night We're with Our Friends"), in which they sang about Miss Piggy, The Smurfs, E.T. and other popular characters from the 1980s. (No Muppets appeared, but an illustration of Miss Piggy in her karate suit could be seen in the background.)
The show's final song "Lieder die wie Brücken sind" ("Songs That Are Like Bridges") featured a large children's choir made up of children from Hamburg, Jamaica, New York City, Tokyo, and Warsaw. Meanwhile, Uncle Traveling Matt could be seen again in the crowd, joining in song.
The show's songs were later released on MC and LP under Rolf Zuckowski's label "Rolf und seine Freunde" ("Rolf and His Friends").
Community content is available under
CC-BY-SA
unless otherwise noted.