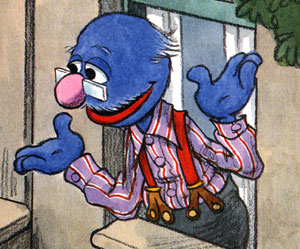 Grover's Grandpa appears in the 1987 Sesame Street book Wait for Me! When Grover takes off to go biking with Ernie, Bert and Big Bird, he leaves Elmo behind who has already suffered some feelings of inadequacy for not being big enough to do certain "big kid" things. Since Grover was too busy to stick around, Grandpa takes Elmo to the zoo. Because he's not so young, Grandpa moves at a pace that Elmo can keep up with, noting that those who are always in a rush, often miss things.
At the end of their day, the pair return home where Grandpa reads to Elmo the story of "The Three Bears." When Grover hears all about his day, he feels as if he has missed out and makes Grandpa promise to wait for him next time.
Grover's Grandpa is also mentioned in the 1991 book I Want to Be a Fire Fighter. Grover dresses up like a fire fighter, and finds his Grandpa's fishing boots in the garage.
See also
Community content is available under
CC-BY-SA
unless otherwise noted.