PERFORMER
various
DEBUT
1972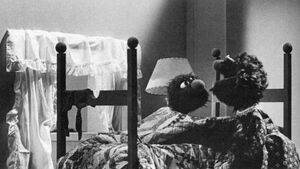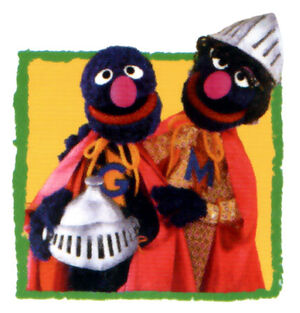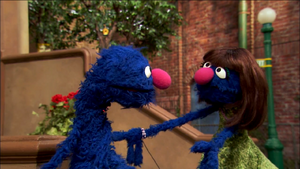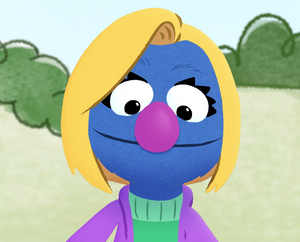 Grover's Mommy plays an integral but often unrecognized role on Sesame Street. She has been seen almost exclusively in print, including the many illustrated books starring her son Grover, in many different incarnations. She was also occasionally seen in photographs, as a photo puppet, such as on the cover of The Sesame Street Treasury Volume 4. Over the course of time, her appearance has fluctuated greatly.
In her first appearance in puppet form, she was gray-green in color (similar to the first Grover puppet). In later appearances, she has blue fur like her son.
Performances
Her earliest known appearance as a Muppet is a 1972 sketch in which Grover speaks to the viewer about being afraid of the dark. At the end of the sketch, his mom (voiced by Frank Oz and puppeteered by Jerry Nelson[1]) enters his room to kiss him good night.
In Elmo's World, she appeared (performed by Stephanie D'Abruzzo) in the "Families" episode with Super Grover as her own alter-ego, "Super-Mommy". Grover crashlands, screaming "Moooommy!" and his mom follows yelling "Soooonny!" crashing on top of him. They recover, acknowledge each other, and both faint. (Super Grover also refers to his mother — "Her name is Super Mommy!" — in a sketch with two boys fighting over an apple.)
She appears in the cold open of Episode 4618 (again performed by D'Abruzzo).
Book appearances
See also
Sources
External links