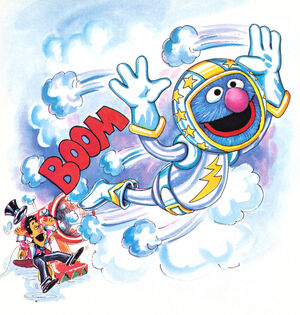 Grover Knover is Grover's daredevil alter ego, a spoof of the famous stunt performer Evel Knievel. Grover Knover first appeared in the 1974 prime-time special Out to Lunch. Kermit the Frog interviewed Grover Knover for Sesame Street News, as Knover prepared to jump over a chasm.[1]
He has since made appearances in several Sesame Street books, including Watch Out for Banana Peels, in which he demonstrated the importance of wearing a crash helmet when getting shot out of a cannon.
Grover also played a motorcycle daredevil in the View-Master reel "Shapes, Colors, and Sizes."
In 2010, a Grover Knover t-shirt was produced. Grover later revisited this alter ego in a segment from the second season of Kinect Sesame Street TV.
Costume
In his first appearance in Out to Lunch, Grover Knover wears a green and purple jumpsuit. In his subsequent book appearances, he wears a white jumpsuit with red stars.
Illustrated appearances
Sources
↑ Original script, see Talk:Out to Lunch.