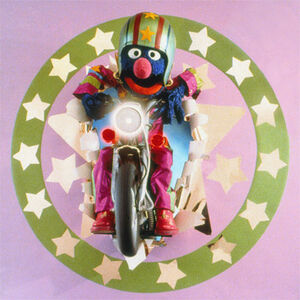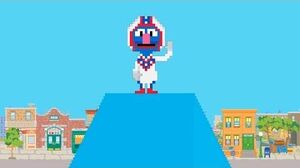 Grover Knover is Grover's daredevil alter ego, a spoof of the famous stunt performer Evel Knievel.
His first appearance occurs in the 1974 prime-time special Out to Lunch where Kermit the Frog interviewed him for Sesame Street News. Grover is meant to jump over the Grand Canyon, but Kermit is inadvertently positioned on the motorcycle instead.
He has since made appearances in several Sesame Street books, sometimes named — as in The Sesame Street Dictionary — and sometimes in uniform only, the design of which has evolved over the years.
Grover wore the same helmet with a different daredevil suit in the 1982 View-Master reel "Shapes, Colors, and Sizes" where he finally gets to ride the motorcycle himself.
Grover later revisited this alter ego in a second season segment for Kinect Sesame Street TV, and he featured in a sesamestreet.org game in 2019 called Grover's Motorcycle Mayhem modeled after the Nintendo game Excitebike.
Illustrated appearances
Community content is available under
CC-BY-SA
unless otherwise noted.