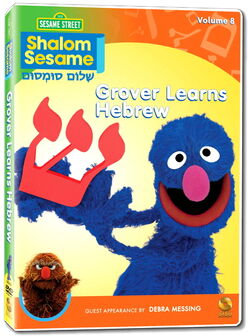 Picture
Segment
Description




SCENE 1
Grover greets the viewer and tells them he plans to spend the day learning how to speak Hebrew. He notices Shoshana speaking it nearby and asks for some help. She teaches him how to say "good morning," which he excitedly repeats to everyone, including Lemlem, who gives him the traditional response of "morning light." Shoshana tells Grover that Eliezer Ben-Yehuda is responsible for the social norm of speaking Hebrew and points him toward the following...

Cartoon
The life story of Eliezer Ben-Yehuda, who studied Hebrew from the Torah as child in Russia. When he moved to Israel years later, he found the language was dated and invented over 300 new Hebrew words to help make it more usable to the country.

SCENE 1 cont'd
Shoshana adds that Ben-Yehuda now has streets named after him in Israel ("Can you tell me how to get, how to get to Ben-Yehuda Street?," Grover sings). She then teaches Grover how to say "thank you."

Film
Various signs of the different streets named in honor of Eliezer Ben-Yehuda.

Celebrity
Debra Messing has a Hebrew name - Devora, which also means "bee" in Hebrew.

Muppets
Zoe sings "My Name Is Zoe."

SCENE 2
Lemlem is impressed with Grover's progress so far and probes his knowledge of the aleph bet. Grover isn't aware that there is a separate set of Hebrew letters, so Lemlem points him toward...

Cartoon
The Aleph Bet Song

SCENE 2 cont'd
Grover shows off his skills to Kobi, who teaches him the Hebrew word for bottle, which was created based on the sound it makes when it's poured. He claims there are other words like that...

Cartoon
Things whose Hebrew names are derived from the sounds they make.

Muppets
Elmo asks Dorothy what the number of the day is.

Muppets
The Number of the Day: 2
Two tubas in tutus, tapdancing, show up after The Count learns that the number of the day is 2.

Song
"2, 2, 2, Me and You."

Animation
The Jewish Calendar month of Iyar

SCENE 3
Shoshana and Lemlem ask Grover if he knows what "mispacha" means. It turns out to be the Hebrew word for "family," since Grover is now a part of theirs. Grover deems this his new favorite word.

Song
"Family Song" - a rewritten version of "Brothers Song"

Cartoon
"We're a Family"
From "Elmo's World: Families"

Muppets
Postcard from Grover
Grover tours the sights of Tel Aviv.

Closing
The sponsors are announced.
DVD Bonus
"Grover's Sing-A-Long"
"Grover's Video Player"
Community content is available under
CC-BY-SA
unless otherwise noted.