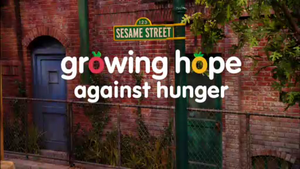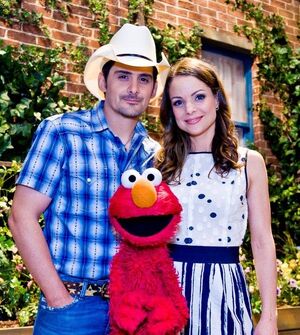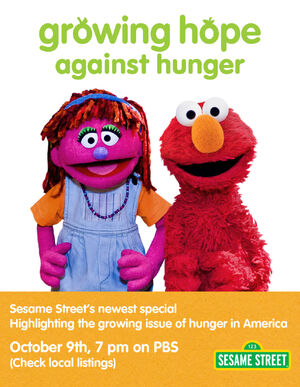 Growing Hope Against Hunger is a one-hour Sesame Street prime time special raising awareness of the widespread issue of hunger in the United States. The special is part of Sesame Workshop's Food for Thought initiative and features Brad Paisley and Kimberly Williams Paisley along with the Muppets of Sesame Street. It aired on local PBS stations on October 9, 2011. The special was also released on The iTunes Store through the "Sesame in Communities" podcast in 2013.
It is part of Sesame Workshop's Food for Thought project, and funded by Walmart.
Show description
Videos
Spanish version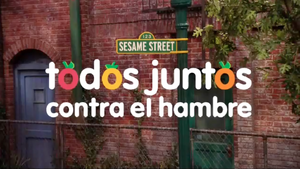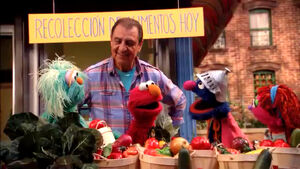 A completely Spanish version of the special, titled Todos juntos contra el hambre, was produced alongside the original English version.
Luis stars as the sole human host of the special. As a result, the majority of the special is re-filmed, nearly shot-for-shot, but changing all the signs (save for the street sign) to Spanish. The special is half the length of the original, eliminating the majority of documentary films. The songs are all re-orchestrated to give them a more Latin sound.
Although the Muppets are all voiced by their Plaza Sésamo voice actors, they retain their American names.
The special originally aired on V-me on November 25, 2011 and was later released on iTunes through the "Sesame en las Comunidades" podcast.
Credits
Cast
Crew
Directed by Kevin Clash
Documentary Film Maker: Cynthia Wade
Executive Producer: Carol-Lynn Parente
Supervising Producer: Melissa Dino
Coordinating Producer: April Coleman
Producers: Kevin Clash, Benjamin Lehmann
Writer: Christine Ferraro
Associate Director: Ken Diego
Set Designer: Bob Phillips
Technical Director: Tom Guadarrama
Production Stage Manager: Mindy Fila
Music Director: Bill Sherman
Music Director - Arrangements: Joe Fiedler
Music Director - Studio: Paul Rudolph
Lyrics By Christine Ferraro
"I Can Help" & "Garden Song" Composed By Adam Schlesinger
Additional Music By Bill Sherman, Joe Fiedler and Loren Toolajian
Jim Henson's Workshop: Jason Weber, Michelle Hickey, Lara MacLean, Jason Seck
Outreach and Educational Practices, Senior Vice President: Jeanette Betancourt, Ed.D.
Education, Research and Outreach, Executive Vice President: Lewis Bernstein, Ph.D.
Production Assistants: Alberto Aguao, Geri Cole, Andrew Moriarty, Rachel Smith
Cameras: Rob Balton, Frankie Biondo, Jerry Cancel
Audio Utility: Gordon Price
Graphics: Pete Ortiz
Animation By: Titmouse, Inc.
Sound Effects: Dick Maitland, CAS
External links