(31 intermediate revisions by one other user not shown)
Line 1:
Line 1:
 
+

[[File:GrowingHope.png|thumb|300px]]

−

{{dev}}

 
−

[[Image:GrowingHope.jpg|thumb|300px]]

+

[[:GrowingHope.jpg|thumb|300px]]

 
+

[[File:GrowingHopeAgainstHungerPoster.jpg|thumb|300px]]

⚫

'''Growing Hope Against Hunger''' is

an upcoming

one-hour ''[[Sesame Street]]'' prime time special raising awareness of the widespread issue of hunger in the [[United States]]. The special is part of [[Sesame Workshop]]'s [[Food for Thought]] initiative and features [[Brad Paisley]] and [[Kimberly Williams Paisley]] along with the Muppets of ''Sesame Street''.

 
 
 
 
⚫

'''Growing Hope Against Hunger''' is one-hour ''[[Sesame Street]]'' prime time special raising awareness of the widespread issue of hunger in the [[United States]]. The special is part of [[Sesame Workshop]]'s [[Food for Thought]] initiative and features [[Brad Paisley]] and [[Kimberly Williams Paisley]] along with the Muppets of ''Sesame Street''.

−

''Growing Hope Against Hunger'' will on local [[PBS]] stations on October 9, [[2011]] at 7pm.

 
 
+
 
+

It is part of Sesame Workshop's [[Food for Thought]] project, and funded by [[Walmart]].

 
 
 

==Show description==

 

==Show description==

−

{{quote|''Growing Hope Against Hunger'' speaks to both children and adults with a story that celebrates the importance of community as everyone works to help one another — including [[Brad Paisley]], [[Kimberly Williams Paisley]], and their [[Sesame Street (location)|Sesame Street]] friends, [[Rosita]], [[Grover]], and [[Bert]]. Our Sesame friends are collecting foods at a food drive and a community garden and meet [[Lily]], a new character whose family has an ongoing struggle with hunger. Together, Lily's family finds strength in helping others who are experiencing similar circumstances. Through animations and songs, the Sesame characters understand what Lily is going through and how their simple actions, such as planting a seed, can make a world of difference. Finally, documentary stories present children's perspectives on food insecurity and illuminate the impact hunger has on families.

+

{{quote|''Growing Hope Against Hunger'' speaks to both children and adults with a story that celebrates the importance of community as everyone works to help one another — including [[Brad Paisley]], [[Kimberly Williams Paisley]], and their [[Sesame Street (location)|Sesame Street]] friends, [[Rosita]], [[Grover]], and [[Bert]]. Our Sesame friends are collecting foods at a food drive and a community garden and meet [[Lily]], a new character whose family has an ongoing struggle with hunger. Together, Lily's family finds strength in helping others who are experiencing similar circumstances. Through animations and songs, the Sesame characters understand what Lily is going through and how their simple actions, such as planting a seed, can make a world of difference. Finally, documentary stories present children's perspectives on food insecurity and illuminate the impact hunger has on families.

 
 
 

No matter what the viewers' experiences with food are, the special reassures children that they are not alone: There are people who care and can help. Emphasizing the importance of togetherness, the special motivates all children to help others, whether through friendship or by giving through family activities. Adults, by hearing children's voices and stories, will find age-appropriate ways to talk to children about sensitive issues related to food. The special also aims to reduce stigma related to food insecurity, empowering adults to serve as resources to others and build hope in their communities.}}

 

No matter what the viewers' experiences with food are, the special reassures children that they are not alone: There are people who care and can help. Emphasizing the importance of togetherness, the special motivates all children to help others, whether through friendship or by giving through family activities. Adults, by hearing children's voices and stories, will find age-appropriate ways to talk to children about sensitive issues related to food. The special also aims to reduce stigma related to food insecurity, empowering adults to serve as resources to others and build hope in their communities.}}

 
+
 
+

==Videos==

 
+

<gallery widths=300 spacing=small>

 
+

File:GrowingHopeAgainstHunger|Promotional video

 
+

File:GrowingHopeAgainstHunger-BTS|Behind-the-scenes

 
+

</gallery>

 
+
 
+

==Spanish version==

 
+

[[File:ContraElHambre.png|thumb|300px]]

 
+

[[File:GrowingHope-Luis.jpg|thumb|300px]]

 
+
 
+

A completely Spanish version of the special, titled ''Todos juntos contra el hambre'', was produced alongside the original English version.

 
+
 
+

[[Luis]] stars as the sole human host of the special. As a result, the majority of the special is re-filmed, nearly shot-for-shot, but changing all the signs (save for the [[Sesame Street (location)|street sign]]) to Spanish. The special is half the length of the original, eliminating the majority of documentary films. The songs are all re-orchestrated to give them a more Latin sound.

 
+
 
+

Although the Muppets are all voiced by their ''[[Plaza Sésamo]]'' voice actors, they retain their American names.

 
+
 
+

The special originally aired on [[V-me]] on November 25, 2011 and was later released on iTunes through the "Sesame en las Comunidades" podcast.

 
+
 
+

==Credits==

 
+

===Cast===

 
+

* [[Brad Paisley]] as himself

 
+

* [[Kimberly Williams Paisley]] as herself

 
+

* [[Chris Knowings]] as [[Chris]]

 
+

* Linet Adorno as Linet

 
+

* Fidel Vicioso as Dad

 
+

* [[Kevin Clash]] as Elmo

 
+

* [[Leslie Carrara-Rudolph]] as Lily

 
+

* [[Carmen Osbahr]] as [[Rosita]]

 
+

* [[Eric Jacobson]] as [[Super Grover]] and Bert

 
+

* Additional Muppet performers: [[Matt Vogel]], [[John Kennedy]], [[Paul McGinnis]]

 
+
 
+

===Crew===

 
+

* Directed by [[Kevin Clash]]

 
+

* Documentary Film Maker: [[Cynthia Wade]]

 
+

* Executive Producer: [[Carol-Lynn Parente]]

 
+

* Supervising Producer: [[Melissa Dino]]

 
+

* Coordinating Producer: [[April Coleman]]

 
+

* Producers: Kevin Clash, [[Benjamin Lehmann]]

 
+

* Writer: [[Christine Ferraro]]

 
+

* Associate Director: [[Ken Diego]]

 
+

* Set Designer: [[Bob Phillips]]

 
+

* Production Stage Manager: [[Mindy Fila]]

 
+

* Music Director: [[Bill Sherman]]

 
+

* Music Director - Arrangements: [[Joe Fiedler]]

 
+

* Music Director - Studio: [[Paul Rudolph]]

 
+

* Lyrics By: Christine Ferraro

 
+

* "[[I Can Help (song)|I Can Help]]" & "[[Garden Song (Sesame Street)|Garden Song]]" Composed By [[Adam Schlesinger]]

 
+

* Additional Music By Bill Sherman, Joe Fiedler and [[Loren Toolajian]]

 
+

* [[The Muppet Workshop|Jim Henson's Workshop]]: [[Jason Weber]], [[Michelle Hickey]], [[Lara MacLean]], Jason Seck

 
+

* Outreach and Educational Practices, Senior Vice President: [[Jeanette Betancourt]], Ed.D.

 
+

* Education, Research and Outreach, Executive Vice President: [[Lewis Bernstein]], Ph.D.

 
+

* Production Assistants: Alberto Aguao, [[Geri Cole]], [[Andrew Moriarty]], Rachel Smith

 
+

* Cameras: Rob Balton, [[Frank Biondo|Frankie Biondo]], Jerry Cancel

 
+

* Graphics: [[Pete Ortiz]]

 
+

* Animation By: [[Titmouse, Inc.]]

 
+

* Sound Effects: [[Dick Maitland]], CAS

 
+
 
+

==External links==

 
+

*[http://www.sesamestreet.org/food Food for Thought Website]

 
+

*[http://www.sesamestreet.org/video_player/-/pgpv/videoplayer/0/fdff208d-b791-495c-b902-7e4607bb0c70/growing_hope_against_hunger Full special at Sesamestreet.org]

 
+
 
+

__NOWYSIWYG__

 
+

[[Category:Sesame Street Specials]]

 
+

[[Category:Food for Thought]]
---
Latest revision as of 02:16, 3 September 2020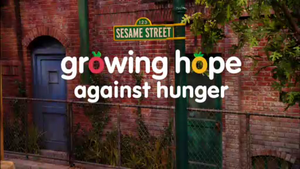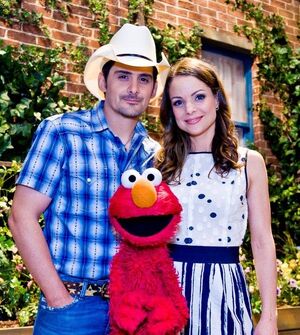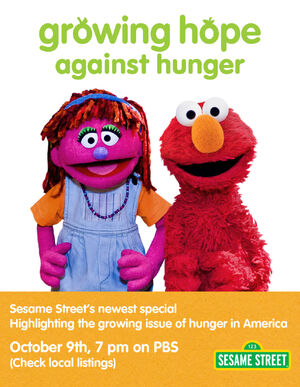 Growing Hope Against Hunger is a one-hour Sesame Street prime time special raising awareness of the widespread issue of hunger in the United States. The special is part of Sesame Workshop's Food for Thought initiative and features Brad Paisley and Kimberly Williams Paisley along with the Muppets of Sesame Street. It aired on local PBS stations on October 9, 2011. The special was also released on The iTunes Store through the "Sesame in Communities" podcast in 2013.
It is part of Sesame Workshop's Food for Thought project, and funded by Walmart.
Show description
"Growing Hope Against Hunger speaks to both children and adults with a story that celebrates the importance of community as everyone works to help one another — including Brad Paisley, Kimberly Williams Paisley, and their Sesame Street friends, Rosita, Grover, and Bert. Our Sesame friends are collecting foods at a food drive and a community garden and meet Lily, a new character whose family has an ongoing struggle with hunger. Together, Lily's family finds strength in helping others who are experiencing similar circumstances. Through animations and songs, the Sesame characters understand what Lily is going through and how their simple actions, such as planting a seed, can make a world of difference. Finally, documentary stories present children's perspectives on food insecurity and illuminate the impact hunger has on families.

No matter what the viewers' experiences with food are, the special reassures children that they are not alone: There are people who care and can help. Emphasizing the importance of togetherness, the special motivates all children to help others, whether through friendship or by giving through family activities. Adults, by hearing children's voices and stories, will find age-appropriate ways to talk to children about sensitive issues related to food. The special also aims to reduce stigma related to food insecurity, empowering adults to serve as resources to others and build hope in their communities."
Videos
Spanish version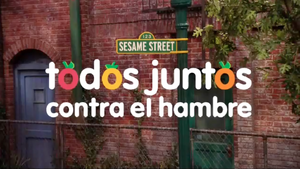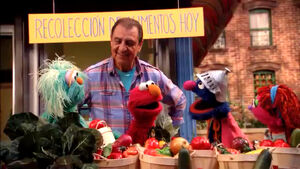 A completely Spanish version of the special, titled Todos juntos contra el hambre, was produced alongside the original English version.
Luis stars as the sole human host of the special. As a result, the majority of the special is re-filmed, nearly shot-for-shot, but changing all the signs (save for the street sign) to Spanish. The special is half the length of the original, eliminating the majority of documentary films. The songs are all re-orchestrated to give them a more Latin sound.
Although the Muppets are all voiced by their Plaza Sésamo voice actors, they retain their American names.
The special originally aired on V-me on November 25, 2011 and was later released on iTunes through the "Sesame en las Comunidades" podcast.
Credits
Cast
Crew
Directed by Kevin Clash
Documentary Film Maker: Cynthia Wade
Executive Producer: Carol-Lynn Parente
Supervising Producer: Melissa Dino
Coordinating Producer: April Coleman
Producers: Kevin Clash, Benjamin Lehmann
Writer: Christine Ferraro
Associate Director: Ken Diego
Set Designer: Bob Phillips
Production Stage Manager: Mindy Fila
Music Director: Bill Sherman
Music Director - Arrangements: Joe Fiedler
Music Director - Studio: Paul Rudolph
Lyrics By: Christine Ferraro
"I Can Help" & "Garden Song" Composed By Adam Schlesinger
Additional Music By Bill Sherman, Joe Fiedler and Loren Toolajian
Jim Henson's Workshop: Jason Weber, Michelle Hickey, Lara MacLean, Jason Seck
Outreach and Educational Practices, Senior Vice President: Jeanette Betancourt, Ed.D.
Education, Research and Outreach, Executive Vice President: Lewis Bernstein, Ph.D.
Production Assistants: Alberto Aguao, Geri Cole, Andrew Moriarty, Rachel Smith
Cameras: Rob Balton, Frankie Biondo, Jerry Cancel
Graphics: Pete Ortiz
Animation By: Titmouse, Inc.
Sound Effects: Dick Maitland, CAS
External links
Community content is available under
CC-BY-SA
unless otherwise noted.