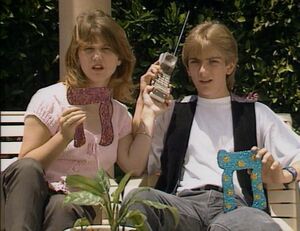 Growing Pains is a family sitcom that ran on ABC from 1985 until 1992.
References
In the 1990-1991 episodes of Shalom Sesame, Jeremy Miller (Ben Seaver) was a frequent guest host, playing himself. In the ninth episode, "Aleph-Bet Telethon," he and Tracey Gold appeared, with Miller referring to Gold as "my sister" (referring their relationship on Growing Pains), implying that they're appearing in character.
Mentions
In the episode "Feet of Clay", Ben Seaver finds out that his favorite rock star isn't such a nice guy after meeting him, and decides to stop being a fan. At one point, dad Jason compares this to the time when Ben learned that Kermit the Frog isn't real. Ben said that as a result, he couldn't get himself to watch Sesame Street for awhile.
Connections
Community content is available under
CC-BY-SA
unless otherwise noted.