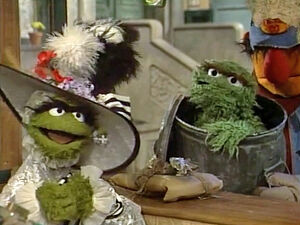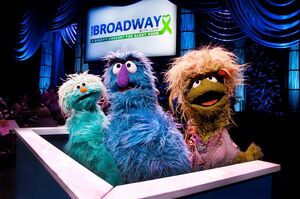 Grundgetta is Oscar's Grouch girlfriend on Sesame Street. Her first appearance was in Season 11 (Episode 1400). Oscar occasionally calls her Grungie, while she generally calls him Oskie. She and Oscar, in addition to being a "couple", are also best friends.
Like Oscar, Grundgetta has had a number of pets over the years, including her worm Sylvia, a rottendoodle named Itchy and a muddy piglet who won the Yucchiest Pet contest in Oscar's Grouch Jamboree.
Oscar and Grundgetta got engaged in Episode 3609, but they called off the wedding out of fear that they would make each other too happy.
In a 2010 video released on Sesame Family Robinson, Pam Arciero performed Grundgetta, who commented that she was nervous since she hadn't been on camera in months (referencing her absence from the show). Although Grundgetta appeared primarily in the 1980s and 1990s, she has continued to make sporadic appearances; including Episode 4828, 5022, and some online videos, such as the show's "Mannequin Challenge" video and the "Real Grouches of Sesame Street" webseries. She also appeared at the street-naming event on May 1st, 2019.
Performer
Brian Muehl's last aired appearance as Grundgetta was Episode 1958 in a scene at the Fix-It Shop. The role was assumed by Pam Arciero the following season who made her debut in Episode 2013 singing "Knock Three Times". Arciero used Grungetta as her signature character at Jim Henson's Memorial performing "Just One Person."
In Episode 2052 it is revealed that Grundgetta can sing with a beautiful soprano voice (provided by Ivy Austin). She reveals that she only sings that way depending on her mood, especially if it really irritates Oscar (who prefers what he calls her "rusty nail" singing voice).
Name
The spelling of the character's name has varied over the years, alternating between "Grundgetta" and "Grungetta."
The spelling "Grundgetta" appears in the storybooks, including Oscar's Grouch Jamboree, the albums Oscar's Trashy Songs and Let's Be Friends, and the Applause plush doll. Current Sesame Workshop press kits list the character as "Grundgetta," as does an internal CTW document from 1994. As of January 18, 2008, typing "Grundgetta" in the search engine on the Sesame Street Video Player gives results, while typing "Grungetta" doesn't show any results. However, results can be found for either spelling at sesamestreet.org.
However, the Sesame Street Unpaved book, the "Sesame Street 35 Years Anniversary Game" and the book Elmo's Delicious Christmas refer to the character as "Grungetta." A Sesame Workshop press kit from 1984 uses "Grungetta," as do the Sesame Family Newsletters from the early 2000s. For more on this question, see the talk page.
Filmography
Episodic appearances
Brian Muehl
Pam Arciero
Book appearances
Audio appearances
See also