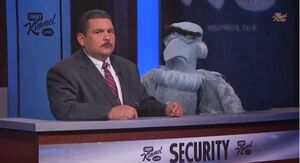 Guillermo Rodriquez (b. 1971) is best known as the sidekick and security guard for Jimmy Kimmel on Jimmy Kimmel Live.
Sam the Eagle appeared with Guillermo in a security bit on the March 4, 2014 broadcast.
Guillermo has been with Jimmy Kimmel Live since the show's inception in 2003. He serves as correspondent for events such as the Victoria's Secret fashion show and the Grammy Awards.
External links