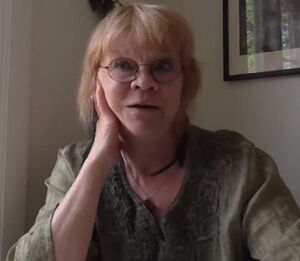 Gunilla Norling (b. 1943) is a Swedish voice actress who dubbed Prairie Dawn, Marshal Earp and various others on Svenska Sesam, the second Swedish adaptation of Sesame Street.
While her full name is Gunilla Christina Olsson, she has performed under different names over the years. She has been credited as Gunilla O. Larsson, Gunilla Ohlsson and Gunilla Ohlsson-Larsson.
Some of her voice credits include the 1980 dub of Disney's Sleeping Beauty (as the queen), Mickey's Christmas Carol (Daisy Duck), the Swedish animated movie Pelle Svanslö (Peter No-Tail, as Frida), and others.