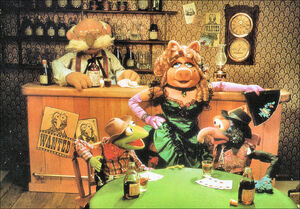 Gunsmoke was a CBS Western drama which originated on radio, running from 1952 until 1960, becoming one of the last network radio dramas. It was adapted to television in 1955, running concurrently with the radio version for several years, and with the earliest episodes adapted from old radio scripts. The television version ran for twenty years, ending in 1975. The protagonist was Marshal Matt Dillon (who served as narrator on radio and the early TV shows), supported by Miss Kitty Russell, deputy Chester, and Doc Adams.
The series was surpassed in the record books for the longest running primetime drama in U.S. television by Law & Order, and the animated series The Simpsons took its place in the record books as the longest running primetime series. It's longevity was noted by cable channel Bravo, which included Marshal Matt Dillon at number forty five in its list of the 100 Greatest TV Characters. James Arness played Marshal Matt Dillon for all twenty years of the series, and then again in the made for television movies in the 1980s and 90s. Only Kelsey Grammer as Frasier Crane has come close to breaking Arness' record, playing Frasier for twenty years.
References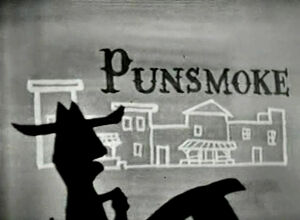 Sam and Friends spoofed the series in a sketch titled "Powder-Burn" (also known as Punsmoke in the closing logo). It featured Chicken Liver as Marshal Dilly, Kermit as "Pester," and Harry the Hipster as "Doggy." The skit utilized the actual theme song recording from the radio series and had Harry quoting the opening radio announcement, "The story of the violence that moved West and the man who moved with it." On radio, Matt (played by William Conrad) would respond with "I'm that man, Matt Dillon, U. S. Marshal. The first man they look for and the last they want to meet." Marshall Dilly, however, says he's "the last I hope they find, blasted bill collectors." An opening gag about old eggs making the best Western omelette, "an adult Western," referred to the show's status as radio's first true adult Western drama (compared to The Lone Ranger and others aimed at juvenile audiences).
In The Muppets Look at TV, a 1983 appointment calendar, Gunsmoke was parodied as Dumbsmoke for the month of March, with Kermit in the role of the marshal, Miss Piggy as Miss Kitty, Gonzo as the villain, and Pops as Sam the bartender.
Connections
Community content is available under
CC-BY-SA
unless otherwise noted.