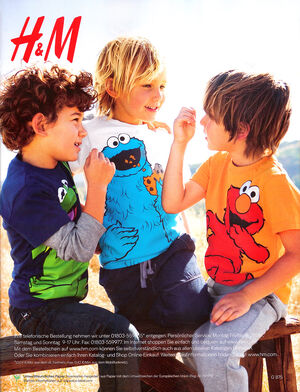 H&M is a Swedish clothing company that was founded in 1947.
From 2005 to 2010, the company offered a variety of products under the Muppet license. Though a few men's items such as Muppet Show logo t-shirts and Animal boxer shorts were available, the focus was mainly on women's apparel, including Kermit the Frog undershirts, underwear, bras, slippers, cloth make-up cases and more.
In the coming years, the line expanded to include baby apparel, such as pajamas donning the Muppet Show Fan Club logo, which had previously only been printed inside the women's undershirts.
In 2010, H&M expanded their line with the Sesame Street license. The company now offered both popular Sesame Street characters (owned by Sesame Workshop) and Kermit the Frog (under the Disney license) on similarly designed shirts and sweaters of the same product line; and had these products, despite the license split, appear together on advertisements as well.
The Muppet Show children's line
Sesame Street adult line
External links