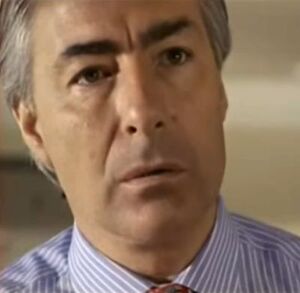 Héctor Cantolla is a Spanish voice actor who dubbed Cookie Monster (Triki on Ábrete Sésamo, the Castilian Spanish dub of Sesame Street) beginning in 1974. He reprised the part on the 1976 album Abrete Sesamo and also dubbed the Newsman on El Show de los Teleñecos (The Muppet Show).
Cantolla began his dubbing career in the late 1960s, initially in small roles and then becoming the Spanish voice of Terence Hill in Spaghetti Westerns and other films. He has often dubbed Burt Reynolds and Arnold Schwarzenegger (including Predator, Twins, and The Escape Plan). He dubbed Marlon Brando in Superman, Michael Caine in Deathtrap, Kris Kristofferson in Alice Doesn't Live Here Anymore, Paul Benedict in The Goodbye Girl, and Charles Durning in Dog Day Afternoon. Cartoon roles include Satan on South Park and Bruce Wayne on Batman Beyond.
Cantolla is a frequent announcer for car commercials in Spain. In video games, he dubbed Count Nefarious in Toonstruck, various roles in the Assassin's Creed series, Crowe in Far Cry, and the Sheriff in Cars Race-O-Rama. He has appeared occasionally in films, with prominent roles in the 1996 drama Como un relámpago and the 1997 comedy Brácula (Condemor II) (as Dracula).
External links
Community content is available under
CC-BY-SA
unless otherwise noted.