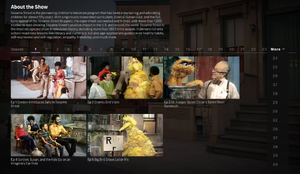 HBO Max is a streaming service launched on May 27, 2020, from WarnerMedia Entertainment.
In October 2019, Sesame Workshop announced that it would enter a five-year deal with the service, producing original content exclusively for the platform. Five new seasons of Sesame Street will make their debut on the service, beginning with Season 51.[1]
Sesame Workshop will also develop new programs for the service, including Sesame spin-offs The Not-Too-Late Show with Elmo and Mecha Builders, plus animated and documentary series unrelated to the Sesame franchise. Annual Sesame Street specials, beginning with The Monster at the End of This Story, will premiere on the service as well.[1] The short-form compilation series, My Sesame Street Friends, premiered on the service in November 2020.
The deal also includes legacy content including The Furchester Hotel and "a broad collection of Sesame Street episodes selected from the past 50 years – many available to the public on-demand for the first time ever."[1] Warner Media's April 21, 2020, press release announcing the service's debut on May 27 also noted that content from the Sesame Street library would be available at launch ("Highlights of the extensive WarnerMedia portfolio of programming and acquisitions that will be available on day one include the libraries of... Sesame Street"), but did not specify if the extent of coverage would go beyond what HBO On Demand has already made available.[2]
In a similar agreement to the deal made with HBO in 2015, all original Sesame content produced for the service will air on PBS as well at a later date[1] (while The Not-Too-Late Show with Elmo instead aired on Cartoon Network).
Sesame Street episodes
HBO Max includes a number of Sesame Street episodes in its library, although not all 4,630 of them. Several episodes are new (✔) to the format that had not previously been released in a syndication package, physical home media, or distributed digitally.
HBO assigns their own numbers to the episodes, relative to the season they were produced for. These are non-reflective of the original episode numbers which are still shown on screen at the beginning of each episode.
On November 1, 2020, episodes that had been new to the platform at launch in May 2020 were merged with content previously available streaming on HBO (such as the Sesame Street Classics collection). For a period of time, Episode 3136 was incorrectly placed a second time in their season 31 listing. Episode 4085 was also placed a second time in their season 40 listing.
| Episode | New | Added | HBO Max Title |
| --- | --- | --- | --- |
| Episode 0001 | X | 2020-05-27 | (s1) Gordon Introduces Sally to Sesame |
| Episode 0030 | ✔ | 2020-05-27 | (s1) Granny Bird Visits |
| Episode 0056 | X | 2020-05-27 | (s1) Mr. Hooper Bakes Oscar a Baked Bean Sandwich |
| Episode 0115 | X | 2020-05-27 | (s1) Gordon, Susan, and the Kids Go on an Imaginary Car Ride |
| Episode 0123 | X | 2020-05-27 | (s1) Big Bird Draws Letter R's |
| Episode 0131 | X | 2020-05-27 | (s2) Oscar's Grandmother Visits |
| Episode 0265 | ✔ | 2020-05-27 | (s2) Ice Cream Machine on Sesame Street |
| Episode 0276 | X | 2020-05-27 | (s3) Big Bird Meets Mr. Snuffleupagus |
| Episode 0330 | ✔ | 2020-05-27 | (s3) Fix-It Shop Opens |
| Episode 0349 | ✔ | 2020-05-27 | (s3) Cookie Monster Makes Grouchy Food |
| Episode 0352 | ✔ | 2020-05-27 | (s3) Cookie Monster Gets Amnesia |
| Episode 0359 | ✔ | 2020-05-27 | (s3) Bert Leaves Ernie to Live with Big Bird and Oscar |
| Episode 0406 | X | 2020-05-27 | (s4) Gordon and Susan Meet Sam the Robot |
| Episode 0484 | ✔ | 2020-05-27 | (s4) Cookie Monster's Birthday |
| Episode 0536 | X | 2020-05-27 | (s5) Just Another Quiet Day on Sesame Street |
| Episode 0584 | ✔ | 2020-05-27 | (s5) Cookie Monster's Cousin Apple Monster Visits |
| Episode 0592 | X | 2020-05-27 | (s5) A Cold Day on Sesame Street |
| Episode 0593 | ✔ | 2020-12-11 | (s5) Heavy Snow Falls on Sesame Street |
| Episode 0594 | ✔ | 2020-12-08 | (s5) Grover's Snow Friend |
| Episode 0595 | ✔ | 2020-12-08 | (s5) Maria Prepares to Go Skiiing |
| Episode 0596 | ✔ | 2020-12-08 | (s5) Oscar Imagines a Slippery Scenario |
| Episode 0597 | X | 2020-05-27 | (s5) Shoveling Snow on Sesame Street |
| Episode 0598 | X | 2020-05-27 | (s5) A Sesame Winter Wonderland |
| Episode 0599 | ✔ | 2020-12-11 | (s5) Maria Borrows Oscar's Gloves |
| Episode 0600 | X | 2020-05-27 | (s5) Big Bird Mails a Snowball |
| Episode 0637 | ✔ | 2020-05-27 | (s5) Electric Company Meets Sesame Street |
| Episode 0666 | X | 2020-05-27 | (s6) The Count Counts Streetlights |
| Episode 0725 | ✔ | 2020-05-27 | (s6) Cookie Monster is in Charge of Hooper's Store |
| Episode 0796 | X | 2020-05-27 | (s7) Headline Howie Gets the Scoop on Snuffy |
| Episode 0797 | ✔ | 2020-05-27 | (s7) Big Bird Runs for President |
| Episode 0832 | ✔ | 2020-05-27 | (s7) Luis Hires Maria to Work at the Fix-It Shop |
| Episode 0833 | ✔ | 2020-12-08 | (s7) Big Bird Makes Snowflakes |
| Episode 0834 | ✔ | 2020-12-11 | (s5)[sic] Big Bird and Oscar Clear the Snow |
| Episode 0835 | ✔ | 2020-12-08 | (s7) Freshly Fallen Snow on Sesame Street |
| Episode 0836 | ✔ | 2020-12-11 | (s7) Sesame Street Hires Help to Shovel Snow |
| Episode 0837 | ✔ | 2020-12-08 | (s7) Big Bird and Snuffy Make a Snowman |
| Episode 0838 | ✔ | 2020-12-14 | (s5)[sic] Big Bird Warms Up Sesame Street |
| Episode 0839 | ✔ | 2020-12-11 | (s7) Sesame Street is Frozen |
| Episode 0845 | ✔ | 2020-05-27 | (s7) Mr. Hooper Goes Back to School |
| Episode 0900 | ✔ | 2020-05-27 | (s7) Sing-Along in Ernie and Bert's Bathroom |
| Episode 0926 | X | 2020-05-27 | (s8) The 25th Anniversary of Hooper's Store |
| Episode 0930 | ✔ | 2020-05-27 | (s8) Linda's Birthday |
| Episode 0953 | ✔ | 2020-05-27 | (s8) The Count Woos the Countess |
| Episode 0957 | ✔ | 2020-05-27 | (s8) Oscar Welcomes Olivia to Sesame Street |
| Episode 0971 | ✔ | 2020-05-27 | (s8) Oscar's Home Video |
| Episode 1090 | X | 2020-05-27 | (s9) Flying to Hawaii |
| Episode 1091 | X | 2020-05-27 | (s9) Snuffy Arrives in Hawaii |
| Episode 1092 | X | 2020-05-27 | (s9) Meeting Buffy's Friends |
| Episode 1093 | X | 2020-05-27 | (s9) Big Bird and Snuffy Search for Mount Snuffleupagus |
| Episode 1094 | X | 2020-05-27 | (s9) Mr. Hooper Learns to Surf |
| Episode 1095 | X | 2020-05-27 | (s9) Farewell Luau |
| Episode 1148 | ✔ | 2020-05-27 | (s9) James Earl Jones visits Hooper's Store |
| Episode 1186 | X | 2020-05-27 | (s10) Naming Barkley |
| Episode 1207 | ✔ | 2020-05-27 | (s10) Bert Meets Bertha |
| Episode 1255 | ✔ | 2020-05-27 | (s10) Big Bird Gets His Tonsils Removed |
| Episode 1257 | X | 2020-05-27 | (s10) Telly Moves to Sesame Street |
| Episode 1261 | X | 2020-05-27 | (s10) Herry Goes to the Eye Doctor |
| Episode 1262 | ✔ | 2020-05-27 | (s10) A Movie is Being Filmed at Hooper's Store |
| Episode 1316 | X | 2020-05-27 | (s11) Maria's birthday in Puerto Rico |
| Episode 1317 | ✔ | 2020-05-27 | (s11) Exploring in Puerto Rico |
| Episode 1318 | ✔ | 2020-05-27 | (s11) Oscar and Osvaldo Go Trashing |
| Episode 1319 | ✔ | 2020-05-27 | (s11) An Island Picnic in Puerto Rico |
| Episode 1320 | ✔ | 2020-05-27 | (s11) Festival in Puerto Rico |
| Episode 1321 | ✔ | 2020-05-27 | (s11) Home from Puerto Rico |
| Episode 1364 | X | 2020-05-27 | (s11) R2-D2 and C-3PO Visit Sesame Street |
| Episode 1396 | X | 2020-05-27 | (s11) R2-D2 and C-3PO Return to Sesame Street |
| Episode 1446 | X | 2020-05-27 | (s12) Big Bird Goes to School |
| Episode 1463 | ✔ | 2020-05-27 | (s12) Big Bird Becomes a Superhero |
| Episode 1570 | ✔ | 2020-05-27 | (s12) Oscar Goes to Space |
| Episode 1575 | X | 2020-05-27 | (s12) Mr. Rogers Visits |
| Episode 1576 | X | 2020-05-27 | (s13) Birdwatchers |
| Episode 1706 | X | 2020-05-27 | (s14) Big Bird Goes to Camp Echo Rock |
| Episode 1707 | X | 2020-05-27 | (s14) Big Bird's First Day at Camp |
| Episode 1708 | X | 2020-05-27 | (s14) Big Bird Gets a Postcard from Snuffy |
| Episode 1709 | X | 2020-05-27 | (s14) Big Bird and the Camp Go for a Hike |
| Episode 1710 | X | 2020-05-27 | (s14) Big Bird's Last Day at Camp Echo Rock |
| Episode 1808 | ✔ | 2020-05-27 | (s14) Sesame Street Sing-Along |
| Episode 1836 | X | 2020-05-27 | (s15) Gordon and Snuffy Run the NYC Marathon |
| Episode 1839 | X | 2020-05-27 | (s15) Goodbye, Mr. Hooper |
| Episode 1854 | X | 2020-05-27 | (s15) Snuffy Catches a Cold |
| Episode 1952 | X | 2020-05-27 | (s15) Hooper's Has a Broken Window |
| Episode 1957 | X | 2020-05-27 | (s15) Election Day on Sesame Street |
| Episode 2029 | ✔ | 2020-05-27 | (s16) Big Bird Stays Up Late |
| Episode 2033 | ✔ | 2020-05-27 | (s16) Cinderella on Sesame Street |
| Episode 2064 | ✔ | 2020-05-27 | (s16) Sesame Street Pet Show |
| Episode 2096 | X | 2020-05-27 | (s17) The Adults Meet Snuffy |
| Episode 2230 | ✔ | 2020-12-08 | (s18) Another Cold Day on Sesame Street |
| Episode 2256 | ✔ | 2020-05-27 | (s18) Elmo's New Doll |
| Episode 2356 | ✔ | 2022-01-28 | (s19) Elmo, Gordon, and Miles Go to the Zoo |
| Episode 2410 | ✔ | 2020-05-27 | (s19) Snuffy's Little Sister, Alice |
| Episode 2443 | X | 2020-05-27 | (s19) Rooftop Sing-Along |
| Episode 2455 | ✔ | 2020-05-27 | (s19) Maria and Luis Get Engaged |
| Episode 2484 | ✔ | 2020-05-27 | (s19) Maria and Luis Prepare for Their Wedding |
| Episode 2485 | X | 2020-05-27 | (s19) Maria and Luis Get Married |
| Episode 2496 | X | 2020-05-27 | (s20) Maria and Luis Reminisce About Their Wedding |
| Episode 2506 | X | 2020-05-27 | (s20) Singing Out of Tune |
| Episode 2590 | ✔ | 2020-05-27 | (s20) Snuffleupagus Picnic in Central Park |
| Episode 2598 | X | 2020-05-27 | (s20) Grandmothers on Sesame Street |
| Episode 2615 | X | 2020-05-27 | (s20) Meet the Baby |
| Episode 2619 | ✔ | 2020-05-27 | (s21) Sleepytime on Sesame Street |
| Episode 2648 | ✔ | 2020-05-27 | (s21) Grouchytown |
| Episode 2746 | ✔ | 2020-05-27 | (s22) Grouch Appreciation Day |
| Episode 2848 | ✔ | 2021-11-11 | (s22) Elmo and his Friends Play Wubbaball |
| Episode 2850 | ✔ | 2022-01-28 | (s22) Savion Gives Elmo His Old Tap Shoes |
| Episode 2874 | ✔ | 2020-05-27 | (s22) A Day at Birdland |
| Episode 2888 | ✔ | 2020-05-27 | (s23) Rosita's First Day on Sesame Street |
| Episode 2909 | ✔ | 2020-05-27 | (s23) Baby Bear Hides from Goldilocks |
| Episode 2912 | ✔ | 2020-05-27 | (s23) Slimey's at Worm School |
| Episode 2941 | ✔ | 2022-01-28 | (s23) Elmo pretends he's a flower |
| Episode 3007 | ✔ | 2020-05-27 | (s24) Snuffy Organizes the Snuffketeers |
| Episode 3043 | ✔ | 2020-05-27 | (s24) Superhero Adventures |
| Episode 3061 | X | 2020-05-27 | (s24) The Worm Winter Games |
| Episode 3136 | X | 2020-05-27 | (s25) Around the Corner |
| Episode 3137 | X | 2020-05-27 | (s25) Dancing Ruthie |
| Episode 3139 | X | 2020-05-27 | (s25) Susan and Gordon Stay at the Furry Arms |
| Episode 3152 | X | 2020-05-27 | (s25) Oscar and the Theme Song |
| Episode 3171 | X | 2020-05-27 | (s25) The Grand High Triangle Lover's Success Story |
| Episode 3174 | X | 2020-05-27 | (s25) Wanda the Word Fairy Visits |
| Episode 3226 | ✔ | 2020-05-27 | (s25) The Martians Visit Sesame Street |
| Episode 3240 | X | 2020-05-27 | (s25) Big Bird and Snuffy Add |
| Episode 3300 | X | 2020-05-27 | (s26) The Worm Summer Games |
| Episode 3434 | X | 2020-05-27 | (s27) Big Bird Has Birdy Pox |
| Episode 3435 | ✔ | 2022-01-28 | (s27) Elmo and Rosita are Farming |
| Episode 3466 | ✔ | 2020-05-27 | (s27) Rosita at the Furry Arms |
| Episode 3487 | ✔ | 2022-04-22 | (s27) Tarah Sleeps Over at Gabi's |
| Episode 3502 | X | 2020-05-27 | (s27) Big Bird Bowling Ball |
| Episode 3525 | ✔ | 2020-05-27 | (s27) Shari Lewis and Lamb Chop Visit Sesame Street |
| Episode 3543 | ✔ | 2022-04-22 | (s28) Tarah and Her Wheelchair |
| Episode 3557 | ✔ | 2020-05-27 | (s28) Elmo's Wiggle |
| Episode 3564 | ✔ | 2020-05-27 | (s28) Big Bird and the Cuckoos |
| Episode 3609 | ✔ | 2021-11-11 | (s28) Oscar and Grundgetta Plan Their Wedding |
| Episode 3611 | X | 2020-05-27 | (s28) The Art Dealer |
| Episode 3641 | ✔ | 2020-05-27 | (s28) Many Monsters |
| Episode 3663 | ✔ | 2021-11-11 | (s29) Elmo's Dream |
| Episode 3698 | ✔ | 2020-05-27 | (s29) Slimey Goes Into Space |
| Episode 3721 | X | 2020-05-27 | (s29) Big Bird Wants to be a Dancer |
| Episode 3722 | X | 2020-05-27 | (s29) Snuffy Takes Tap |
| Episode 3725 | X | 2020-05-27 | (s29) Prairie Dawn Gives Maria the Gift of Music |
| Episode 3764 | ✔ | 2022-04-22 | (s29) Barkley Dances with Celina and the Kids |
| Episode 3778 | X | 2020-05-27 | (s29) Telly and Baby Bear Camp Out on Mount Bear |
| Episode 3785 | ✔ | 2020-05-27 | (s29) Slimey Returns from the Moon |
| Episode 3786 | X | 2020-05-27 | (s30) Welcome Alan |
| Episode 3791 | ✔ | 2022-01-28 | (s30) Maria Pet-Sits at the Fix-It Shop |
| Episode 3806 | X | 2022-04-22 | (s30) Linda's Birthday Surprise |
| Episode 3810 | X | 2020-05-27 | (s30) The Best Friends Pageant |
| Episode 3845 | ✔ | 2022-01-28 | (s30) A Garden on Sesame Street |
| Episode 3846 | X | 2020-05-27 | (s30) Rosita Can't Fly |
| Episode 3848 | X | 2022-04-22 | (s30) Thank You Party for Barkley |
| Episode 3853 | ✔ | 2022-01-28 | (s31) Elmo's Zoo |
| Episode 3855 | X | 2021-11-11 | (s31) Barkley Does Not Want to Take a Bath |
| Episode 3879 | ✔ | 2022-01-28 | (s31) Big Bird and Snuffy Explore Things That are Alive |
| Episode 3890 | ✔ | 2022-01-28 | (s31) Baby Bear and the Monster Sing-along Party |
| Episode 3906 | X | 2020-05-27 | (s31) Papa Bear's Perpetual Porridge Machine |
| Episode 3912 | X | 2021-11-11 | (s31) Elmo in Numberland |
| Episode 3917 | X | 2020-05-27 | (s32) Elmo Learns to Salsa |
| Episode 3943 | X | 2021-11-11 | (s32) Everyone's Cooking on Sesame Street |
| Episode 3962 | X | 2022-04-22 | (s32) Elmo Makes a Collage |
| Episode 3967 | ✔ | 2021-11-11 | (s32) Gordon Ducksits for Rubber Duckie |
| Episode 3968 | ✔ | 2021-11-11 | (s32) Rosita Draws Pictures of Her Friends |
| Episode 3976 | X | 2020-05-27 | (s32) Preparing for a Hurricane on Sesame Street |
| Episode 3977 | X | 2020-05-27 | (s32) Cleaning Up Sesame Street After the Hurricane |
| Episode 3978 | X | 2020-05-27 | (s32) Big Bird Sleeps Over at Gabi's After the Hurricane |
| Episode 3979 | X | 2020-05-27 | (s32) Building a New Nest for Big Bird |
| Episode 3980 | X | 2020-05-27 | (s32) Welcome Home Big Bird |
| Episode 3983 | ✔ | 2022-01-28 | (s33) Three Monster Girls Who Love to Sing |
| Episode 3999 | X | 2021-11-11 | (s33) Ernie's Rubber Duckie Loses its Squeak |
| Episode 4000 | X | 2020-05-27 | (s33) Elmofante |
| Episode 4002 | ✔ | 2021-11-11 | (s33) The Three Amigas |
| Episode 4013 | X | 2020-05-27 | (s33) Making Pictures for Snuffy's Grandma |
| Episode 4032 | ✔ | 2022-01-28 | (s34) Elmo Falls in Love with Gina |
| Episode 4034 | ✔ | 2022-04-22 | (s34) Bert's Birthday |
| Episode 4045 | X | 2021-11-11 | (s34) The Cookie Flu |
| Episode 4057 | X | 2021-11-11 | (s35) The Street We Live On |
| Episode 4058 | X | 2021-11-11 | (s35) Best Pet in the World |
| Episode 4060 | X | 2022-01-28 | (s35) Alan's Vacation Replacement |
| Episode 4063 | X | 2020-05-27 | (s35) Elmo's Chicken Dream |
| Episode 4067 | X | 2022-04-22 | (s35) The Cute But Not So Fuzzy Four |
| Episode 4071 | X | 2022-01-28 | (s35) Professor Super Grover's School for Super Heroes |
HBO Max Originals
Additional Sesame Street content
Former
Other
Former
Sources
Notes