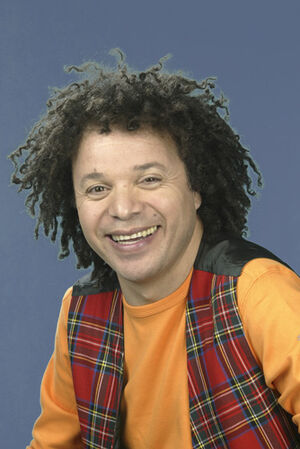 Hakim Traïda (b. 1956) plays Hakim on Sesamstraat, the Dutch co-production of Sesame Street.
Hakim is a mime artist, always playing around with objects that are invisible to the viewers. He is usually seen in his own inserts (sometimes on location or in classrooms with children), but in later seasons he also appears in the street stories with speaking roles. He is a little mysterious, but also very playful and a little naughty. Sometimes he plays the part of narrator.
Hakim made his debut in 1985, and has been Sesamstraat's "regular" mime ever since. Mime and clown acts have been featured on Sesamstraat since the first season. And he is the onlyone who writes his own sketches.
In recent seasons, Elvan Akyildiz and Buurman Baasje have been costars in his mime scenes.
Born in Algeria, Traïda was discovered doing his mime act on the Leidseplein in Amsterdam. He is a popular theater maker for children, and he also performs in stage shows for adults.
External links
Community content is available under
CC-BY-SA
unless otherwise noted.