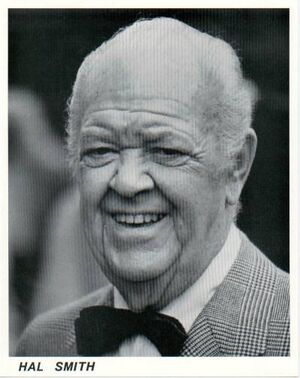 Hal Smith (1916-1994) was a character actor and voice artist, whose notable roles included town drunk Otis Campbell on The Andy Griffith Show, many cartoon voices, and John Avery Whittaker on the radio series Adventures in Odyssey. On Sesame Street, he supplied all voices in a cooperation insert (as an ant, an elephant, and a bear). (First: Episode 0538)
On-camera, Smith usually played comedic parts (often typecast as a drunk) on The Adventures of Ozzie and Harriet, The Lucy Show, The Addams Family, Night Court, and The Odd Couple, as well as appearing on the dramas Gunsmoke, Barnaby Jones, The Virginian, and Ellery Queen. Film credits include The Great Race (directed by Blake Edwards), The Three Stooges Meet Hercules, and Son of Flubber. He frequently portrayed Santa Claus in animated specials and on-camera (including The Brady Bunch and commercials). In the 1960 film The Apartment, he combined his two specialties, in a bit as a drunken Santa Claus.
Smith was often heard in cartoons and commercials from the sixties onward. He worked most often for Hanna-Barbera, playing many roles on The Flintstones (including Santa, eccentric uncles, and loud Texans or Southerners), Coil Man on The Impossibles, Yappee and the King on Peter Potamus, suspicious handymen and others on Scooby-Doo, Where Are You?, wartmonger Sludge on The Smurfs, and parts in various Yogi Bear spin-offs and specials. He played Elmer Fudd in two later Looney Tunes shorts, Goliath and all adult males on Davey and Goliath, and various roles in Dr. Seuss specials.
For Disney, he played Goofy in Mickey's Christmas Carol and various records, Gyro Gearloose and Flintheart Glomgold on DuckTales, and supplied the whinnies for the horse Philippe in Beauty and the Beast. In the Winnie the Pooh theatrical featurettes, he voiced Owl, reprising the part in later spinoffs. For a time in the 1980s, he took over as the voice of Pooh after Sterling Holloway retired (in Winnie the Pooh and a Day for Eeyore, the Disney Channel series Welcome to Pooh Corner, and various educational shorts).
External links
Community content is available under
CC-BY-SA
unless otherwise noted.