Music by
Harold Fraser-Simpson
Lyrics by
A. A. Milne
Publisher
Chappell & Co.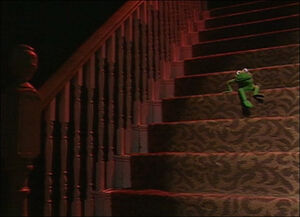 "Halfway Down the Stairs" is sung by Robin the Frog in episode 110 of The Muppet Show. The lyrics are from an A. A. Milne poem, and the tune was written by Harold Fraser-Simpson, who put many of Milne's poems to music.
It is Robin's only significant performance during the first season of The Muppet Show, before he became known as Kermit's nephew onscreen. He sings the song while sitting in the middle of a flight of stairs, which is a special spot to sit because "It isn't really anywhere, it's somewhere else instead."
The sequence was refilmed for certain international versions of The Muppet Show. The song was released as a single, which made it to the Top 10 in the United Kingdom. As a result, it earned an appearance on the British show Top of the Pops on June 2, 1977, for which it was again refilmed. It was one of the songs sung by Jerry Nelson for the tribute to Jim Henson at his funeral.
Releases
Audio
Video
External links