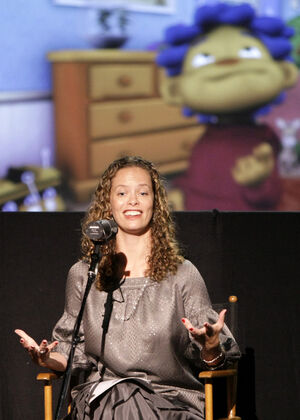 Halle Stanford serves as the President of Television for the Jim Henson Company. She is also a ten time Emmy®-nominated and award winning Executive Producer for Henson.
Stanford is currently executive producing for the company. She is a co-creator and executive producer for the PBS series Sid the Science Kid and has executive produced Dinosaur Train,The Doozers, Splash and Bubbles, Word Party, Julie's Greenroom, Pajanimals Dot.,Me and My Monsters, Jim Henson's Turkey Hollow, Frances, and Animal Jam.
Stanford joined The Jim Henson Company in 1993 and worked on beloved Muppet projects like Muppet Treasure Island, Muppets Tonight, as well as the Sci-fi cult classic Farscape. She was a producer on Bear in the Big Blue House and Donna's Day in 1997, and then a co-executive producer on Telling Stories with Tomie dePaola (2001) and Animal Jam (2003). In the late 2000s, Stanford executive-produced several projects using the Henson Digital Performance System, notably Frances and Sid the Science Kid.
Credits
External links