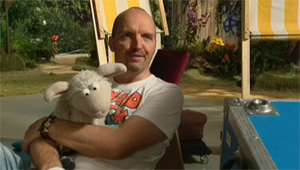 Hamburg Journal is a local news program on the German channel NDR.
On July 21, 2010, there was a report about the new Sesamstrasse show Eine Möhre für Zwei. They interviewed Wolle, Pferd, Martin Paas and the actor Axel Prahl and showed clips from the new show as well as how it is made.
In June of 2012, Hamburg Journal reported on the making of Sesamstrasse's first TV movie, Das Geheimnis der Blumenfabrik, set to air the following year as part of the show's 40th anniversary.
On January 7, 2013, Hamburg Journal repeatedly reported live from the ongoing 40th Anniversary celebrations at NDR headquarters, including the concert NDR Radiophilharmonie mit Ernie, Bert und Samson as well as interviews with Ernie and Bert, Elmo, Cookie Monster (performed by David Rudman) and NDR head Lutz Marmor.
On May 14, 2013, Ernie, Martin Paas and Charlie Kaiser appeared in a report on the exhibition 40 Jahre Sesamstrasse, advertising its opening at the Altonaer Museum in Hamburg. (Video) An official opening party took place later that day, still with Ernie in attendance.
Community content is available under
CC-BY-SA
unless otherwise noted.