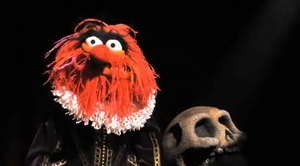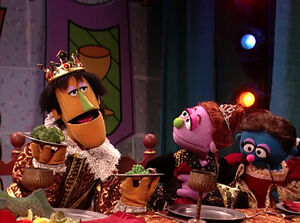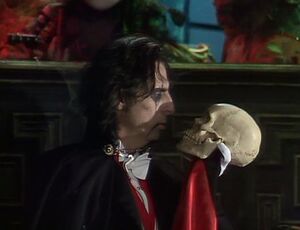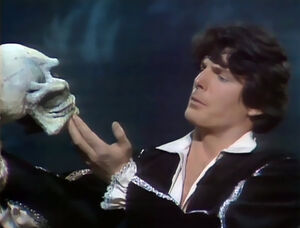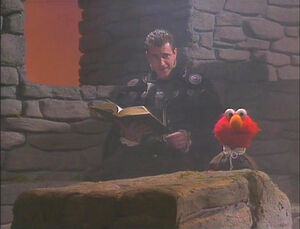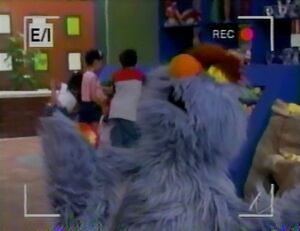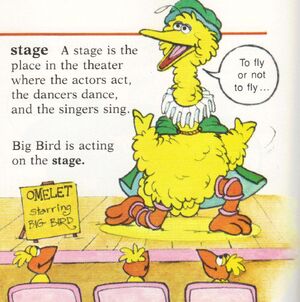 Hamlet is a tragedy written by playwright William Shakespeare. The play, set in Denmark, recounts how Prince Hamlet exacts revenge on his uncle Claudius, who has murdered Hamlet's father, the King, and then taken the throne and married Gertrude, Hamlet's mother. The play vividly charts the course of real and feigned madness -- from overwhelming grief to seething rage -- and explores themes of treachery, revenge, incest, and moral corruption.
References
The Muppet Show
In the Rudolph Nureyev episode of the Muppet Show features a special Veterinarians Hospital in tribute to William Shakespeare. When a young piglet is brought into the vet, Dr. Bob says, "Not piglet, Hamlet."
The Muppet Show episode 418 features a scene in which Gonzo was supposed to play Hamlet, but he sprained his nose. Kermit asks Christopher Reeve to step in, and the sketch ends with a rendition of "Brush Up Your Shakespeare" from Cole Porter's Kiss Me, Kate. The sketch also features a Muppet version of Hamlet's Yorick.
In the last backstage scene of episode 107, Kermit says to Miss Piggy in exasperation "I am not your frog!" Rather than being angry or offended, Miss Piggy responds in apparent denial "Methinks thou dost protest too much," a paraphrasing of Queen Gertrude's line in Act 3, Scene 2: "The lady doth protest too much, methinks."
Sesame Street
In one sketch, Grover tries to tell the story of "The Cursed Prince" that comes to a chaotic end when the prince turns into Kermit the Frog. Gladys the Cow appears, thinking she can play a frog. When Grover mentions the lack of the witch, Gladys shifts gears and pretends she's a witch, reciting "Double double, toil and trouble."
In Episode 1879, Oscar works on a play about trash. In his can, he is heard typing away at the script. At one point, he writes, "To be or not to be...no, that's not funny enough."
In Episode 2718, Grouch poet Henry Wadsworth Wrongfellow (played by Denzel Washington) recites one of his poems, which is a Grouchy variation on the famous soliloquy from the play.
In the Monsterpiece Theater sketch, "Much Ado About Nothing", Elizabethan waiter Grover tells Mr. Johnson that his meal of suckling pig will not come with baby carrots, as Hamlet has already used them in an omelet. Later in the sketch, Mr. Johnson remarks "The pig's the thing", referencing the line "The play's the thing herein I'll catch the conscience of the King."
In Episode 3040, Sir John Feelgood pretends to fall asleep and states, "Sleep, perchance to dream," a part of the famous "To be or not to be" speech. At the end of the episode, Sir John announces the sponsors in a dramatic fashion. When he mentions the letter B, Big Bird remarks "Wow! Was that a B or not a B!"
Patrick Stewart, a well known Shakespearean actor, appeared on Sesame Street dressed in Elizabethan garb and performed a spoof of Hamlet's "Soliloquy", here titled "A B or not a B." During this sketch, Stewart gazes at a three-dimensional model of the letter B while holding it in one hand, a reference to Hamlet's Yorick soliloquy. Stewart later played the king in the Royal Shakespeare Company's production of Hamlet.
Grover appears in a segment at a theater. When the curtain goes up, he recites: "To be or not to be. That is a very silly question."
In Elmo's World: Dogs, the Dogs Channel announces an upcoming program: Hamlet starring a Great Dane.
In Grover's 140 character speech for The Shorty Awards, his first one is Hamlet.
Other
In a 1963 sketch on The Jimmy Dean Show, Rowlf demonstrates his acting skills by reciting "To be or not to be!" He claims that the line was written by William Shakespeare's dog.
In "Fozzie's Story," the second issue of The Muppet Show Comic Book, Fozzie turns to Shakespeare's comedies for inspiration after flopping with a cheesy set of jokes. Dressed as a jester, Fozzie starts to tell the one about the man of England, the man of Ireland, and the wretched leper (replete with Elizabethan-style language) but is foiled when a skull drops from the ceiling and scares him offstage. Gonzo later addresses the skull romantically as Yorick.
In episode 112 of The Jim Henson Hour, Waldo C. Graphic tells Kermit the show isn't drawing in the Danish-Cowboy audience and comes up with a Western version of Hamlet, making a variation on the "To be or not to be" speech and mentioning Ophelia getting stuck in a horse trough.
Connections