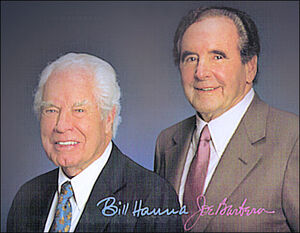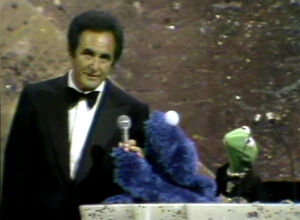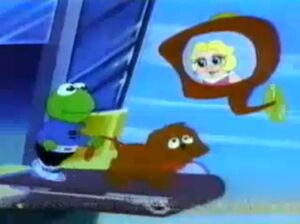 Hanna-Barbera was a prolific animation studio which, between 1957 and 2001, produced scores of animated television series and specials, as well as a few forays into theatrical films. The company took its name from William Hanna and Joseph Barbera, who first teamed as co-directors of the Tom and Jerry theatrical shorts for MGM. When MGM closed its doors, Hanna and Barbera struck out on their own, producing limited animation television product which came to dominate network Saturday morning slots for decades. Their earliest series was Ruff and Reddy, followed by Huckleberry Hound, Yogi Bear, The Flintstones, The Jetsons and Scooby-Doo, amongst others. One of their more notable successes in the 1980s came from licensing a group of popular Belgian comic characters for a long-running animated series, The Smurfs.
In 1990, Hanna Barbera was one of several companies which collaborated on Cartoon All-Stars to the Rescue, with the Smurfs sharing screentime with the Muppet Babies. Though the studio itself no longer exists, having been absorbed into Warner Bros. Animation in 2001, its extensive sound-effects library is still in wide use, and has been heard in several Muppet/Henson contexts since the 1980s, most notably the Muppet Babies animated series and its reboot.
Jim Henson's Creature Shop supplied animatronic dinosaurs and other prehistoric characters for the live-action film version of The Flintstones and its prequel The Flintstones in Viva Rock Vegas. William Hanna and Joseph Barbera made cameo appearances in both films. Additionally, the Creature Shop did some uncredited pre-production work on the 1998 Scooby-Doo film.
Appearances
Freddy Flintstone, the younger version of Fred Flinstone who starred in The Flintstone Kids, appeared on the covers of several Marvel Comics Star Comics magazines reprinting earlier comics, along with the likes of Baby Piggy, Heathcliff, and Madballs.
For more references, appearances, or connections see the following pages:
References
A Sesame Street animated insert (First: Episode 0537) in which a boy makes his dog happy with a treat is based on the behavior of Quick Draw McGraw's dog Snuffles, who would go into paroxysms of joy, hugging himself, and finally floating into the air and landing in a state of pure bliss.
Muppet Mentions
In the first episode of the short-lived 1992 prime-time Hanna-Barbera series Fish Police, Inspector Gil tells waitress Pearl "You know how I feel about you" and winds up repeating "How..." when at a loss for words. Pearl asks why he talks like that, and Gil retorts that "all the great couples talk like that... uh, Fred and Wilma, Kermit and Miss Piggy, Rocky and Bullwinkle..."
In the season one Space Ghost Coast to Coast episode "Spanish Translation", a commercial for "Zorak and Moltar Sing Your Favorite Lullabies", has a song titled "It's Not Easy Being Mean".
In the Cartoon Planet episode "Tomfoolery", Space Ghost mentions Blip carries around a Kermit the Frog toothbrush.
In the season five Space Ghost Coast to Coast episode "Cahill", Space Ghost asks guest Garrett Morris where Zorak is, and Morris asks if he was talking about Kermit the Frog.
In the third season Sealab 2021 episode "Splitsville," one of the rock bands at the Battle of the Bands is named the Ocean Bottom Nightmare Band, a reference to the Riverbottom Nightmare Band in Emmet Otter's Jug-Band Christmas. Furthering the similarity, they consist of animatronic weasels.
In the fourth season Sealab 2021 episode "Craptastic Voyage," the crew undergoes a mission of entering Captain Shanks' body and destroying a tumor. Stormy comments, "Wow, a shrink ray. Just like that time on Muppet Babies! You know, when Scooter had spinal meningitis?" (Referencing the third season episode "Scooter's Uncommon Cold"). Shortly afterwards, Stormy sets up a Tonight Show-style talk show but fails to show a video clip from the episode.
Connections
Several voice actors in Hanna-Barbera series were also heard in Sesame Street inserts.
Other actors who lent their voices or appeared in Muppet/Creature Shop productions also had Hanna-Barbera connections, as did some animators and other crew.