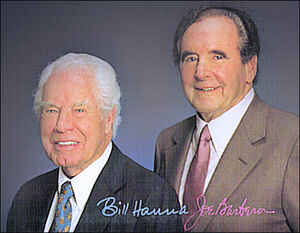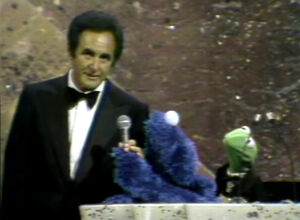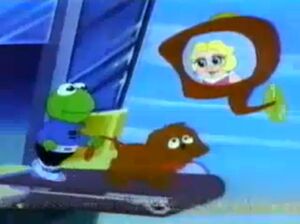 Hanna-Barbera was a prolific animation studio which, between 1957 and 2001, produced scores of animated television series and specials, as well as a few forays into theatrical films. The company took its name from William Hanna and Joseph Barbera, who first teamed as co-directors of the Tom and Jerry theatrical shorts for MGM. When MGM closed its doors, Hanna and Barbera struck out on their own, producing limited animation television product which came to dominate network Saturday morning slots for decades. Their earliest series was Ruff and Reddy, followed by Huckleberry Hound, Yogi Bear, The Flintstones, The Jetsons and Scooby-Doo, amongst others. One of their more notable successes in the 1980s came from licensing a group of popular Belgian comic characters for a long-running animated series, The Smurfs.
In 1990, Hanna Barbera was one of several companies which collaborated on Cartoon All-Stars to the Rescue, with the Smurfs sharing screentime with the Muppet Babies. Though the studio itself no longer exists, having been absorbed into Warner Bros. Animation in 2001, its extensive sound-effects library is still in wide use, and has been heard in several Muppet/Henson contexts since the 1980s, most notably the Muppet Babies animated series.
Appearances
Freddy Flintstone, the younger version of Fred Flinstone who starred in The Flintstone Kids, appeared on the cover with Baby Piggy, Heathcliff, and two Madballs in Marvel Comics Star Comics magazine series, reprinting earlier comics.
References
In The Muppets comic strip, a Whatnot autograph hound pursues a flattered Fozzie because she has mistaken him for Yogi Bear.
In Episode 3908, Telly compliments Baby Bear's clever idea, to which he replies that he's "smarter than the average bear," in reference to Yogi Bear.
In Episode 4055, Papa Bear reads from a book of bear names when trying to come up with a name for their new baby. Among the names he suggests are "Yogi Bear" and "Boo-Boo."
Connections
Jim Henson's Creature Shop supplied animatronic dinosaurs and other prehistoric characters for the live-action film version of The Flintstones and its prequel The Flintstones in Viva Rock Vegas. William Hanna and Joseph Barbera made cameo appearances in both films.
David Barrington-Holt and the Creature Shop were the Creative Supervisor/Character Design for the live-action film adaptation of Scooby-Doo
Mo Willems directed a Quick Draw McGraw short, "City-E-Scape", for Cartoon Network.
Several voice actors in Hanna-Barbera series were also heard in Sesame Street inserts.
Other actors who lent their voices or appeared in Muppet/Creature Shop productions also had Hanna-Barbera connections.
Trivia
Community content is available under
CC-BY-SA
unless otherwise noted.