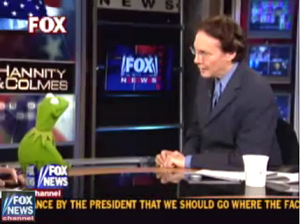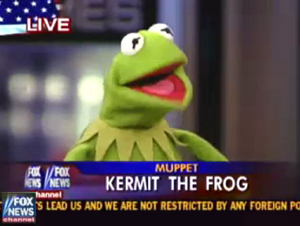 Hannity & Colmes was an American political debate television show on the Fox News Channel featuring host Sean Hannity, expressing a conservative perspective from the Republican Party, and co-host Alan Colmes, presenting a liberal perspective from the Democratic Party.
Kermit the Frog has made guest appearances on the program, including:
In one appearance he declared his political position as an Amphibitarian. Kermit recalled his guest spots on the show in his 2006 memoir Before You Leap. Kermit wrote:
"

I even made appearances on political debate shows like Hannity & Colmbes (sic). I thought I had learned everything about left and right from Sesame Street, but those two guys really taught me a thing or two. (Rather than take sides, I publicly declared my political position as an Amphibitarian. We're opposed to marriages between frogs and pigs.)

"
Kermit's political stance as an Amphibitarian would be discussed again while promoting
Before You Leap
on Fox News Channel's
The Live Desk
.
Community content is available under
CC-BY-SA
unless otherwise noted.