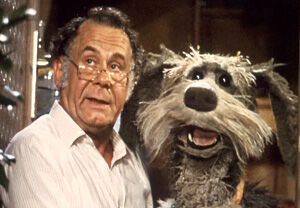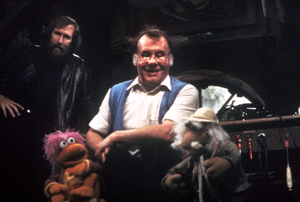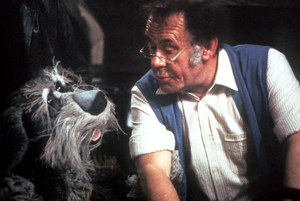 Hans-Helmut Dickow (1927-1989) was a German actor who appeared in dozens of German films and television series and played a Germanic Doc in the German co-production of Fraggle Rock.
At MuppetFest, Steve Whitmire reminisced about Dickow: "He'd been a Nazi soldier, actually. Temperamental actor... Nice guy, but temperamental." The producers wanted him to play the role exactly as Gerry Parkes had in the North American version, but the German Doc refused to watch the North American shows. So on the first day, Dickow said his first line in German, and Whitmire was stuck playing Sprocket with no idea what Doc had just said.
Whitmire talked in great detail about his experiences on the set with Dickow to Duncan Kenworthy in the Fraggle Rock Season Two DVD Interviews segment titled "Docs And Sprockets".
Decades prior to Fraggle Rock, Dickow began his postwar career on radio beginning in 1948, including appearances on two Paul Temple serials, the series Neues aus Schilda (1953), and as detective Paul Cox in four of the Mein name ist Cox serials (between 1956 and 1969). He played defendant Fowle in the 1959 German version of John Mortimer's two-actor BBC radio play The Dock Brief, and multiple plays on the anthology Aus Studio 13 (1957-1987). On television, he played recurring supporting roles on the serials Die Buddenbrooks (1979) and Silas (1981, with Patrick Bach) and guest starred on Derrick, Der Alte, Der Kommissar, and several episodes of Tatort (appearing variously as the investigator's assistant, criminal, or murder victim).
External Links