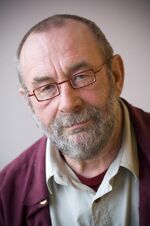 Musician, comedian and songwriter Hans Dorrestijn (b. 1940) composed music for theater, television and radio.
Together with Willem Wilmink, Karel Eykman, Ries Moonen, Fetze Pijlman and Jan Riem he started in 1970 a writers group that produced many songs and lyrics for Sesamstraat and other famous Dutch childrens' programs.
He is mostly known for his typical ironic kind of humor. Besides lyric writing for the music, he also compose rhymes and short stories for the show.
Sesamstraat Discography