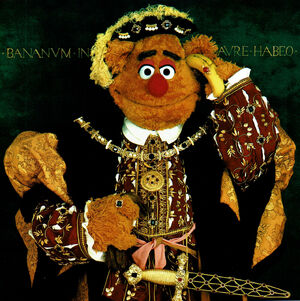 Hans Holbein the Younger (1497–1543) was a German artist who worked in the Renaissance style.
Fozzie appeared in Miss Piggy's Art Masterpiece Calendar as "Jester at the Court of Henry VIII", a spoof of Holbein's Portrait of Henry VIII (the original of which was long destroyed, so all surviving images are in fact copies by other artists).
The coloring book Museum of Monster Art features a spoof of the same painting, with Cookie Monster taking the place of Henry VIII. It also includes a variation of Holbein's Portrait of Erasmus (1523), with Ernie.
Community content is available under
CC-BY-SA
unless otherwise noted.