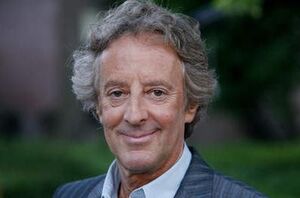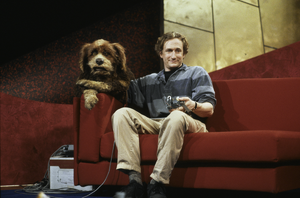 Hans van Willigenburg (August 18, 1942) is a Dutch Tv/Radio announser and Talkshow host.
Van Willigenburg appeared in Sesamstraat November 23 2009 in one scetch. He acts as a peson that walks his dog Flip (formar dog of Masha). He also appeared on february 19, 2010.
Also he was interviewed in some segments in I Love the Muppets in 2003.
But his Henson relationship started already back in the 80's. He hosted and did interviews for different kind of talk shows, like Films and Fans and Vrijdag avond met Hans van Willigenburg (Fridaynight with Hans van Willigenburg). In his shows the Muppet movies made it's entrance and several puppeteers made their appearence. Brian Henson came in his show with the The StoryTeller's Dog. When A Christmas Carol was in theaters, Hans did the interview. Until end 80's He was the main person to bring knowledge abou the Muppet and everything related to Jim Henson.