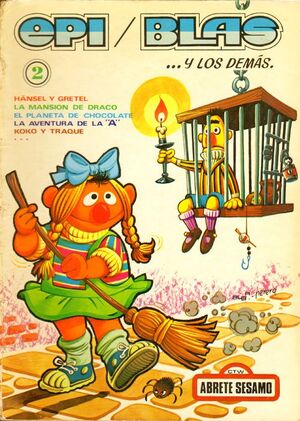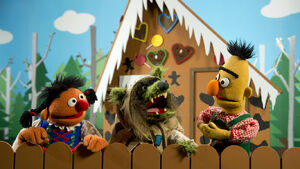 Hansel and Gretel is a classic children's tale by the Brothers Grimm. The eponymous protagonists are a brother and sister who get lost in the woods and encounter an evil witch. It has been parodied several times in Muppet productions, with the characters also making appearances in specials and series, as well as being featured in several projects.
Muppet Characters
References
In 1958, following a sojourn in Europe, Jim Henson designed elaborate sets and built puppets for a Hansel and Gretel stage show, working in a more traditional puppetry style. The project was ultimately abandoned.
A version of the "Hansel and Gretel" tale told by Cookie Monster is featured on the 1977 LP The Sesame Street Fairy Tale Album, as well as a 1978 single. Cookie clarifies that the story he tells, where the children eat the entire gingerbread house, is about Hansel and Gretel "Huckleberry" from Yodeltown; rather than Hansel and Gretel "Hasenpfeffer" from Whistleville, who star in the commonly known version with the witch.
Trivia
In an effort to sound more authentic in pronouncing the German name, Peter Linz introduced his character Hansel as "Hunsel" in Season 36 of Sesame Street. Yet, the correct German spelling "Hänsel", with the diacritic "ä" sounding almost identical to an English "a", actually renders Linz's performance linguistically incorrect. Matt Vogel later kept the erroneous pronunciation when taking over the character.
Connections